Congratulations to our AIGA DC Fellow for 2018, Dan Banks!
Dan Banks has been an active AIGA DC member for many years, including serving as chapter president. In addition to running his studio Project Design Company for more than 20 years, Dan is an educator at American University and has served as an AIGA DC SHINE mentor. Dan's impact on the DC design community reveals a talented, kind, humble design leader who embodies AIGA DC's values and mission.
We are grateful for Dan Banks' continued support and involvement in our chapter and the local design community. Join us for a party in Dan's honor on February 22, 2018 at the Josephine Butler Park Center overlooking Meridian Hill Park (formal invite to be announced soon).
About the Award Process
Dan was one of many names submitted during the nomination period this past summer.
Submissions were reviewed by the AIGA DC Fellow Award Committee, a temporary body of individuals including former Fellow Award winner Antonio Alcalá, Advisory Board Member Jill Spaeth, past AIGA DC President Liz Ott, past AIGA DC Board Member Nathan Hill, Member-at-Large Richard Bentham and Fellow Award Chair Maeg Keane.
The committee unanimously voted to honor Dan Banks as the 2018 Fellow and presented their choice to the AIGA DC board of directors for confirmation.
Hear from some of the committee members:
I first met Dan Banks when I moved to DC. He was president of the DC chapter. He had poise but also a welcoming nature that stood out to me. I joined the board right after his term concluded but remained friends with him and reached out to him whenever I had a question or needed advice. When I started my business, I looked up to Dan as he had then been running Project Design Company for almost a decade. I admired how he managed both clients and employees, and hoped that I'd be able to run my business as successfully as he did his. The thing I like most about Dan is his motivation to see young designers grow and prosper in DC. To me, he fulfills all the qualifications and characteristics of an AIGA DC Fellow.

— Jill Spaeth, President and Director of Design at Citizen Creative
Based on Dan's commitment for so many years to the DC design community, teaching at American University, mentorship through AIGA, it's easy to determine he's nothing but deserving of such an award . . . I also personally appreciate his work with the National LGBTQ Task Force.

— Richard Bentham, Exhibit Designer at the National Museum of the American Indian
I knew Dan as a president of the AIGA DC chapter. And I also knew about his work at Fathom and then starting his own business. But most of all, I'm impressed that Dan still committed himself to teaching at American University as an adjunct faculty member for the past 18 years. This indicates to me, a real commitment to the design community and its future without concern for personal or professional gain. To me, that is a distinguishing characteristic of an AIGA DC Fellow.

— Antonio Alcalá, AIGA DC Fellow and Owner of Studio A
About Dan Banks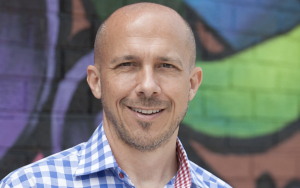 Dan has been designing and art directing in the DC area for over 25 years, starting at George Washington University, then area boutique studios, and finally founding Project Design Company, which has been providing design solutions for the past 15 years. As a graduate from the Rhode Island School of Design, Dan is a broad-based designer and is committed to building and maintaining great client relationships, overseeing the creation of successful design solutions, and avidly pushing technology barriers. He was also an original partner of Flux Forward, a user experience firm. Dan's creativity spills into interior design and color consulting; most notably, he was a featured designer on HGTV's Curb Appeal for two seasons.
Dan has been a long-serving Adjunct Professor at American University and has spoken on branding and web design. Dan served on the board of the AIGA DC chapter as sponsorship director, vice president, president, and advisory board member. Since then, he has participated in various AIGA DC events, including serving as a SHINE mentor. As of 2018, Dan will be the 15th AIGA DC Fellow.
About the Fellow Award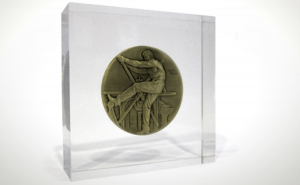 The AIGA Fellow Award is the highest honor an AIGA chapter can bestow on one of its members. It is a means of recognizing designers who have made a significant contribution to raising the standards of excellence in practice and conduct within our local design community. We also consider contributions made through educating, mentoring, writing and volunteering outside office hours as well. Learn more about the Fellow Award.
AIGA DC Fellows
Leo Mullen – 2011
Rodney Williams – 2010
Tamera Lawrence – 2010
David J. Franken – 2009
Antonio Alcalá – 2008
Sam Shelton – 2006
Judy Kirpich – 2005
Beth Singer – 2005
Charles Michael Helmken – 2004
Ethel Kessler – 2004
Terrence McCaffrey – 2003
Stephen Kraft – 2002
Pat Taylor – 2001
Tom Suzuki – 2000
Learn more about AIGA DC Fellows.
The Fellow Award Design Team
A big, warm thank you to Creative Director and Founder of Nh.d Studio Nathan Hill and Design Continuum Fund recipient and designer for Cosmopolitan Jené Adams for crafting the designs for the 2018 Fellow Award. Not only did they design the graphic that's located at the top of this page and gracing all of our social media channels, these two talents are hard at work on designs for napkins, posters, a step-and-repeat, and on and on. They are helping AIGA DC bring the Fellow Award back with sophistication and flare, and we're grateful to have them on our team.
Stay Tuned
In the new year, we'll be releasing more information about our celebration of Dan and the DC-area design community he has helped foster. The event is slated for late February 2018.