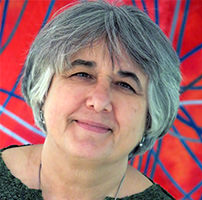 Judy Kirpich
Until December 31, 2015 when she sold her business to her wonderful partners, Judy Kirpich was the CEO of a successful design agency, Grafik. She oversaw a marketing and creative team of 35+ professionals and was responsible for guiding and developing large-scale integrated branding communication programs. Her clients included every Smithsonian museum on the Mall, numerous financial advisories, and many companies in the technology sector.
Kirpich has served as a guest lecturer at many universities and professional associations nationwide, and served as a judge for numerous design competitions. During this period she received her Fellow Award from AIGA DC as well as an Honorary Lifetime Membership in the Art Directors Club of Metropolitan Washington, the Presidents Award from the Women Presidents Organization, and served on the HOW Advisory Council and the Advisory Board of AIGA DC.
Under Kirpich's direction her firm, Grafik, has received over 650 awards for marketing and communication excellence from AIGA, the NY Art Directors Club, the Art Directors Club of Metropolitan Washington, the American Association of Museums, and the Type Directors Club. The firm's work has been published in HOW, Communication Arts, Print and Graphis and featured in over 65 books on design. And Kirpich is profiled in the book, International Women in Design.
Since 2015 she has a full time textile artist operating out of her studios in Washington DC and Lewes Delaware. Her work can be seen at judykirpich.com.
Of the AIGA DC community, Kirpich says,
"Operating as a professional has always been important to me, and AIGA was and is the gold standard for design community professionals. I believe it embodies the ethical and business standards we should all strive to meet. I was especially interested in issues of speculative work and making sure that our community supported each other and worked within healthy competitive boundaries. I think the AIGA helped designers understand that to be successful one had to understand not only creative issues but also business issues.
On being an AIGA DC Fellow,
"It still blows my mind that I get to be in this exclusive community that includes the like of Pat Taylor. Honestly, it is such an honor to be recognized for one's achievements, and I so admire my fellow recipients. I long looked up to and competed with many of the Fellows and know what wonderful, ethical talented human beings they are. I just can't still believe that I am old enough to be a Fellow…"
---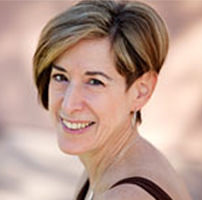 Beth Singer
A graduate of the Rhode Island School of Design, Beth Singer is one of the principals of Beth Singer Design, LLC, a communications planning and design firm she formed in 1981. Her three main roles within the firm are as communications strategist, creative director, and business director.
Some of the long-term clients with whom Beth has worked include Johns Hopkins University, the American Red Cross, International Monetary Fund (IMF), American Israel Public Affairs Committee (AIPAC), U.S. Departments of Education and Justice, National Science Foundation, and The Jewish Federation.
A leader in her field both nationally and locally, Singer served for four years on the national board of AIGA where she chaired four committees: sponsorship for chapters, finance, development and a nation-wide volunteer education project called the "Design Explorers." Singer is also a past president of the Washington, D.C. chapter of AIGA and served on its Board of Directors for over eight years in several capacities, sparking many new initiatives and programs.
Her firm's work has been featured in leading design journals including Graphis, Communications Arts, Print, Graphic Design: USA, HOW, and Step. In her spare time, Singer and her husband, Howard Smith, develop "design thinking" curriculum for elementary-age children and deliver lessons in both public and private schools.
"As far back as I can remember, my two passions have been creating and consuming great design and giving back to the community. Receiving the Fellow Award acknowledges both of these thirsts in a way that has spurred me on to do even more. Some may see the Fellow Award as an acknowledgement of accomplishment… I see it as a greater call to intensify my contributions to our world through design, mentor more people in the arts, and engage in expanded philanthropic activities. The Fellow Award reminds me I have a responsibility to keep on leading."