Become a Volunteer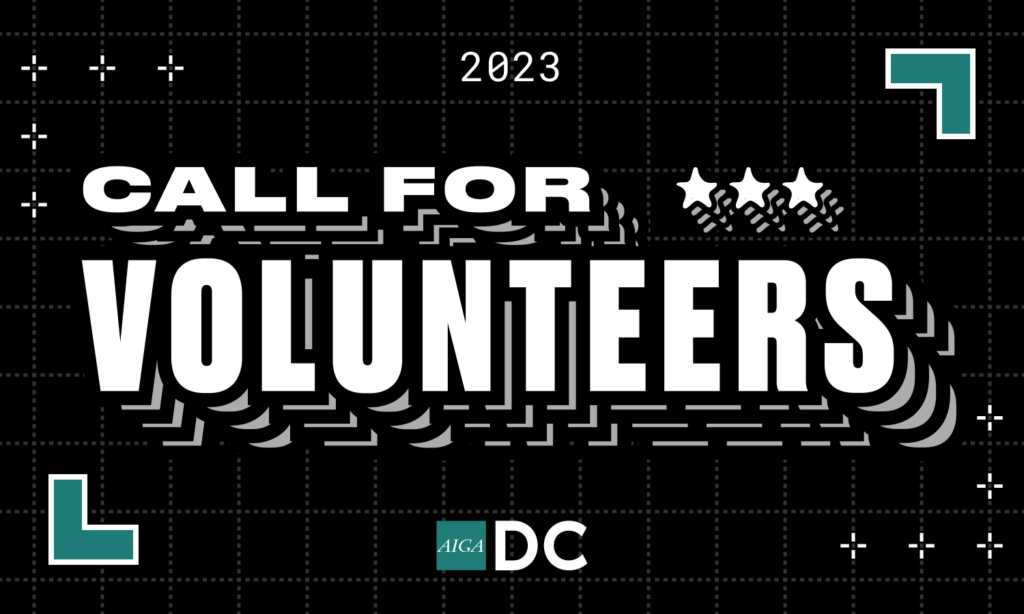 Did you know AIGA DC is run entirely by volunteers? You can give back to your local creative community as well! Contributing your time and talents helps advance the design community in our Washington, DC, region.
AIGA DC has tons of opportunities to get involved. From one-time, day-of volunteering at an event to long-term volunteering by joining a committee, we're looking for motivated creatives like you.
Volunteer Benefits:
Attend the event you're supporting for free! It's a thank you for your service.
Network and make connections with your local community.
Your work will not go unnoticed. We highlight volunteers on our website, in our promotional materials, and during the event.
For creative volunteer support, we'll pay you an honorarium.
General Volunteer Opportunities
At events, we need help setting up the space for guests, registering guests at check-in, controlling crowds, and tearing down the event. This support is usually limited to the day of the event — it may occasionally require some advanced preparation or check-ins.
We can always use more hands to help with these skill sets:
Logistics (ie. Setup /  Greeting / Cleanup)
Technology (ie. Zoom Moderator / Tech Support / Audio)
Creative Volunteer Opportunities
We often need folks to help us make one-off marketing materials for initiatives or take photo or video at events. This usually requires meeting with Board members and several hours of work to complete the project. We're always looking for folks who can support with:
Design (ie. Promotional Materials / Illustrations / Branding )
Photography (ie. Onsite / Floater At Events)
Videography (ie. Recording / Editing Footage)
Audio Production (ie. Mixing / Equalizing)
Committees and Initiatives Volunteer Opportunities
Our special projects and initiatives create their own committees made up entirely of volunteers. These volunteers are involved for weeks to months to help put on a large event or support our initiatives. These committees often need help with:
Communications (ie. Blogs / Copy Writing / Press Releases)
Design (ie. Promotional Materials / Logos / Web Design )
Event Planning (ie. Ideation / Logistics / Project Management / Speaker Outreach )
Social Media (ie. Content Creation / Email Marketing / Scheduling )
Sponsorship (ie. Negotiation / Securing Funds or Partnerships )
Become a committee member for any these initiatives:
AIGA 50 / Fellow Award – Our awards recognition program.
CreateAthon – A 24-hour creative marathon that serves nonprofits in the DMV.
Creative Review – The annual portfolio review program.
DC Design Week – Our annual celebration of the DMV's creative community.
Design Continuum Fund – Our scholarship fund for underserved, underrepresented students pursuing degrees in art and design.
Diversity, Equity Inclusion, & Accessibility – Our commitment to making DEIA (diversity, equity, inclusion, accessibility) a core part of the chapter's mission and all of our programming.
DotGov Design – Programs for folks working in the federal/government sector.
Mentoring / Speaking Series – Bringing DC metro designers and creatives to a local high school once a month to share their work, process, and experience.
SHINE Mentoring – This program matches mentors and mentees around the DC design community looking to connect, challenge each other to grow, and collaborate on a project of their choice.
Learn more about our initiatives here.
Become a Volunteer now!
To get started, please fill out our volunteer form below.