Join the Board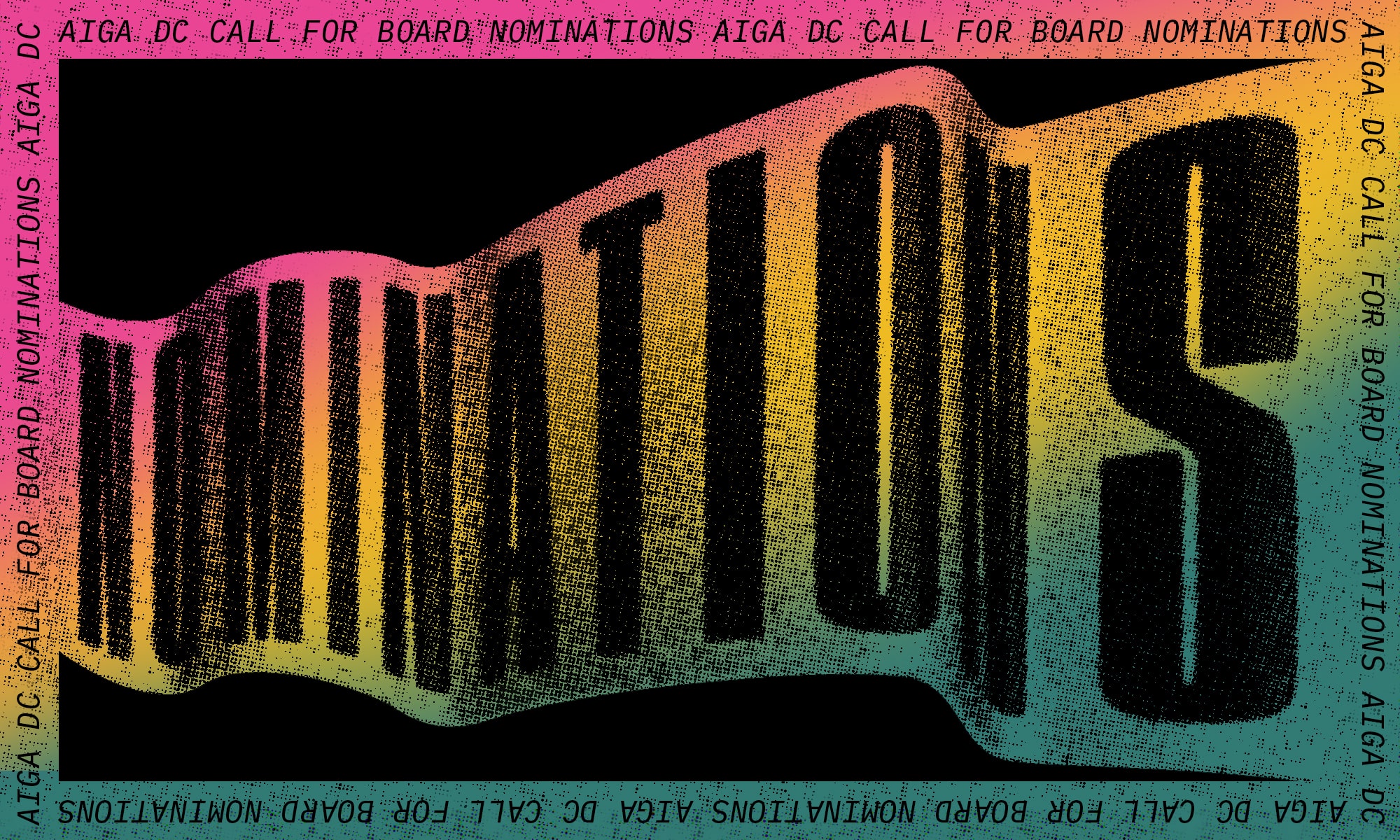 AIGA DC is run by an all-volunteer board of local members, comprised of working designers, creatives and media professionals. We are a motivated, passionate group of working creative professionals who want to help shape and give back to the creative community in DMV.
To date, all DC board members have been solicited by nominations, often recruited after volunteering for an event or serving on a committee. By nominating yourself or someone else, you can help guide the activities of our chapter!
The call for nominations for 2020-2021 is closed. If you're interested in helping out, please be a volunteer! 
Serving on the Board
Being a member of the AIGA DC Board means being an ambassador for AIGA to members and non-members.
Our board members serve as members or leaders of one of our teams — Programming, Communications, and Operations.
Joining the AIGA DC Board is a two-year commitment. You can also serve for longer than that (and many do). At the end of each year, board members can decide if they want to keep their current role, or move to another open position.Specific responsibilities vary depending on the team and the role, but all Board members are expected to:
Be (or become) members of AIGA members in good standing at the Supporting level or above.
Attend required planning retreats and monthly board meetings
Attend major events (bonus: board members get into all our events for free!)
Be responsive on Slack and email (Slack is our main communications platform)
Who We're Looking For
New AIGA DC Board members are trained for their specific roles at our mandatory local board retreat in the summer, and receive guidance throughout the year from more senior board members. So what we're looking for is people with valuable soft skills — teamwork, communication, flexibility, patience, time management, and motivation.
Board members do not need to be designers, but should have an interest in supporting the creative community. Past board members have been writers, engineers, development or fundraising specialists, project managers, and business owners.
It's important to our chapter that the AIGA DC Board be diverse and represent the DC design community. We aim to have a Board with diversity in industry, age, gender, professional experience, race, background, education, income, physical ability and more. However, nominees are not required to offer this information.
The Nomination Process
You can nominate yourself, or someone else.
Nominations open in the spring — we make an announcement through social media and our email newsletter.
A mandatory information session will be held for all nominees. (We do our best to coordinate the schedules of all nominees.)
After the session, a nominating committee will review nominees and recommend new Board members. Per DC chapter bylaws, the committee will take into account the professional diversity of the membership and the need to represent the interests of the entire chapter membership.