Meet Laura Guzman,  SHINE 2013 Mentee
As a sophomore at UMBC, this past winter break has been a hectic time for me. In addition to my homework, applying for scholarships and attending networking events, I have been trying to get an internship. But with the 2013 AIGA DC SHINE mentoring program kicking off this past January, things seemed definitely more promising.
At the SHINE event, I met my mentor Mila Arrisueño, and we started discussing my short-term and long-term career goals. I told her that my first priority was to put together a kick-ass portfolio. So, we immediately planned to review my work and answer any questions I may have, in order to help prep for some upcoming interviews I had lined up.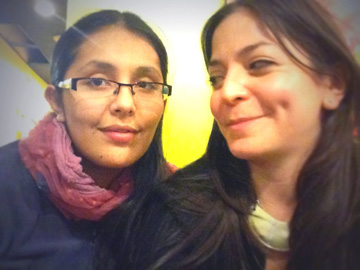 A few weeks later, we met at Mila's workplace, Grafik, where she gave me a studio tour and explained the type of work they do. She also invited other designers to sit down and review my work. The portfolio review turned out to be extremely helpful, and I was really able to identify my strongest pieces of work and understand why.
I thought it would be helpful to share my five key takeaway portfolio tips from the review:
Tip 1: Be yourself.
Tip 2: Never apologize for your work.
Tip 3: Always start your portfolio with your strongest piece of work and end with your strongest.
Tip 4: Always show up 10 minutes early to your interview.
Tip 5: Spell check!
Based on one of Mila's recommendation, I showed a stop-motion animation video I created while at school that I never thought to include. But she really liked it, because she expressed that it showed initiative to learn animation and to think in other types of mediums. Turns out that one of the creative directors that who interviewed me really loved it and later offered me the internship.  (Check out my animation below!)
So as a result, my interviews were a success, and I interviewed at three places and got offered all three positions!  Less than one month, SHINE has proven to be a positive impact on my young career, and I'm looking forward to seeing what other great outcomes will come.
Dian Holton is currently the mentoring chair for AIGA DC and an art director at AARP The Magazine.