AIGA DC is excited to have a partnership with ARTECHOUSE DC. They connect their audience in the limitless possibilities of technology, science, and creativity through immersive experiences. We felt so connected in our mission to inspire, educate, and empower our community.
Through this partnership, we hope our local community can experience the outstanding exhibits at ARTECHOUSE with 20% off your ticket!
Currently exhibiting – PIXELBLOOM: TIMELESS BUTTERFLIES
An ARTECHOUSE Studio original that expands on the successful 2022 PIXELBLOOM exhibition, Timeless Butterflies is an all-new visual narrative that takes visitors through a virtual world of cherry blossoms to experience the ephemeral beauty of butterflies. The visually stunning exhibition is a celebration of Washington, DC's time-honored and beloved cherry blossom season.
This family-friendly exhibition, PIXELBLOOM: Timeless Butterflies will be open to the public daily from March 11 until June 11, 2023, at ARTECHOUSE DC (1238 Maryland Ave. SW).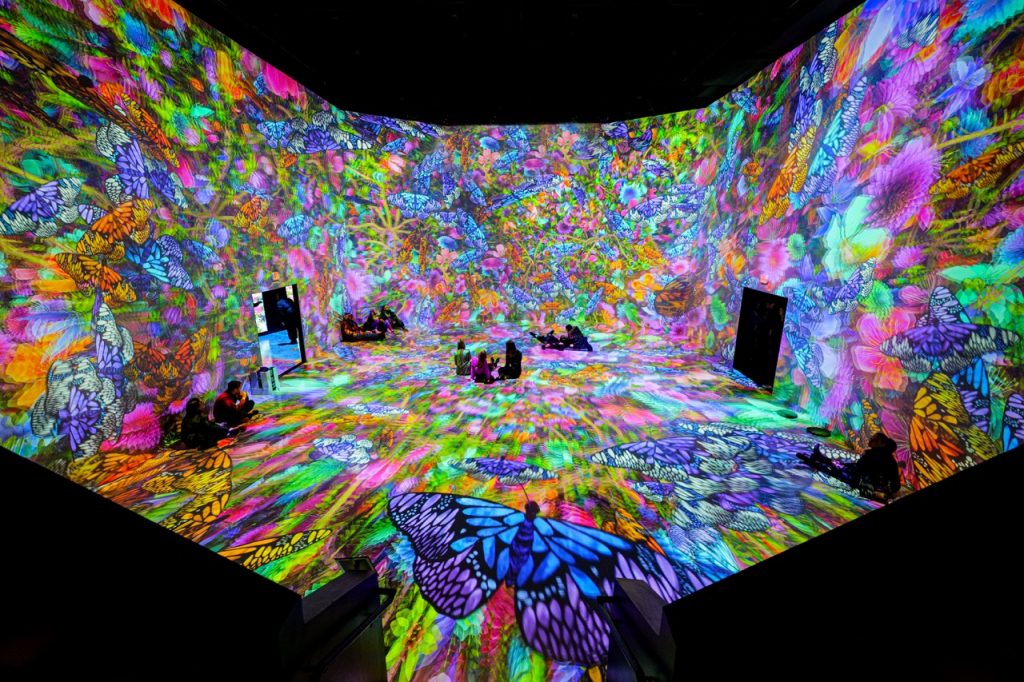 An image from PIXEBLOOM: Timeless Butterflies in ARTECHOUSE DC
PIXELBLOOM: Timeless Butterflies is a joyous audio-visual story that pays tribute to nature's exuberance and the arrival of spring. Leveraging custom technologies, ARTECHOUSE Studio reimagines the potential of a vibrant full spring bloom, both digital and organic in design, to ARTECHOUSE create a one-of-a-kind enchanting, immersive journey. The stunning assortment of butterflies are released from winter slumber, nodding to the start of spring and turning 'pixels' into full bloom.
"Paying homage to spring and DC's cherry blossom season has become a tradition at ARTECHOUSE that I am very proud of. It allows us to connect to our community, while still pushing the creative and technological capabilities. Through this exhibition's focus on the enchanting butterflies, and their nod to the changing season, we hope to bring the audience's attention to nature and the nuances of our ever-changing climate, stirring up a deeper appreciation for the world around us," said Sandro Kereselidze, ARTECHOUSE Founder & Chief Creative Officer.
Led by founder Sandro Kereselidze, ARTECHOUSE continues to use creativity, technology and innovation to educate and delight visitors, as well as empower the artist community looking for new ways to showcase their talents.
At the heart of the exhibition is a virtual microcosm of flourishing cherry blossoms with dynamic visuals created through an unmatched pixel density and highly immersive original soundscape.
ARTECHOUSE Studio collaborated with award-winning motion graphics designer Scott Pagano and multi-platinum producer and composer Matt Lange, as well as sound designer Zach Ivans, to create a total metaverse-like environmental immersion, placing audiences in a whimsical and vivid butterfly dream that showcases the blooming of thousands of cherry blossoms.
Visitors can further explore the various layers of a butterfly's life cycle and its relationship to the environment through a series of interactive installations. Designed and produced by ARTECHOUSE Studio, these installations feature "Digital Flower Experiments" by Japanese digital designer Mei Tamazawa.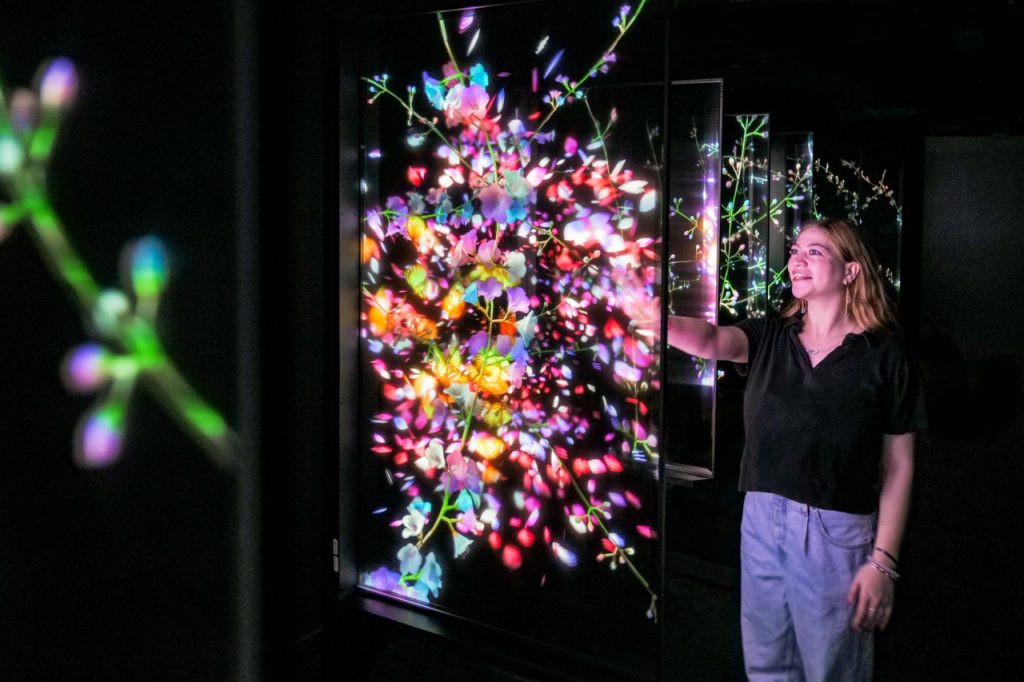 PIXELBLOOM: Timeless Butterflies also kicks off a partnership with LG Display, furthering ARTECHOUSE's mission to empower artists with the latest tools and technologies and inspire creative innovation. An installation depicting the famous Monarch Butterfly migration cycle is brought to life through LG Display's unique Transparent OLED screens, and will be on view inside the media lab space.
"For the sixth year, National Cherry Blossom Festival is proud to include ARTECHOUSE's incredible exhibit as part of the 2023 Festival celebration. We invite Festival-goers to add the PIXELBLOOM: Timeless Butterflies exhibition to their Festival plans for a unique, immersive experience that leverages the power of art and technology in appreciation of the beautiful blossoms," said Diana Mayhew, president and CEO of the National Cherry Blossom Festival.
Unique to the ARTECHOUSE experience is its XR Bar, which offers a curated menu of cocktails and mocktails inspired by the exhibition and brought to life with digital art through ARTECHOUSE XR mobile app. The XR Bar is open daily, starting at 3pm on weekdays and 12pm on weekends.
TIMES & HOURS:
PIXELBLOOM: Timeless Butterflies opens March 11, 2021 and runs through June 11, 2023. ARTECHOUSE
DC is open daily 10am-10pm. ARTECHOUSE DC's XR Bar is open Daily from 11am-close. To purchase tickets online, visit: artechouse.com/location/dc.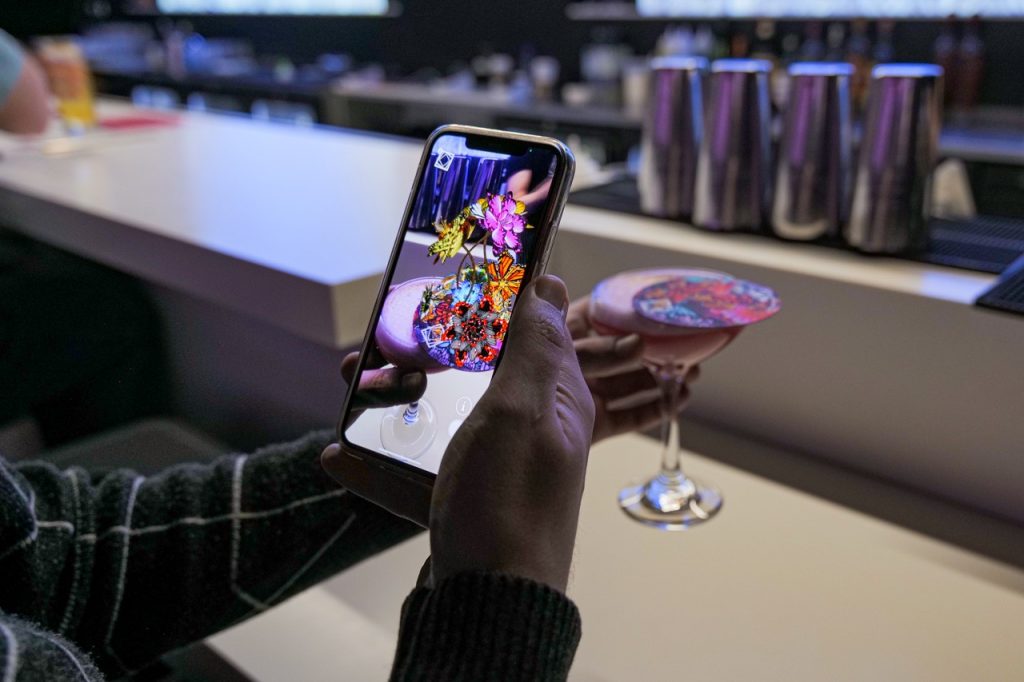 ABOUT ARTECHOUSE
An innovative leader in the field of digital and experiential art, ARTECHOUSE expands the possibilities of art and how we experience it through cutting-edge technology-driven exhibitions and experiences. ARTECHOUSE connects progressive ideas, artists and audiences to stimulate innovation and creativity at the intersection of art, science and technology. What started as the nation's first digital art space is now a home, online and off, for technology-driven art innovation, with a mission to empower and fund the creation of new, experiential and exploratory art forms that make an impact.
Links: artechouse.com \\ Social media: @artechouse \\ Use Hashtag #artechouse