Folks! AIGA DC is seeking a NEW motion graphics package to enhance our live and recorded Zoom events. Currently we're using graphics developed in-house, and in 2021 we want to level up with a NEW solution from a motion designer in our community.
Interested? All details below. Contact Mike O'Brien, Communications Director, (mobrien@dc.aiga.org) with any questions. Submission deadline is January 8, 2021.
What We'd Like to See in your Response
Portfolio or Reel of previous works.
Brief description of your creative proposal. Format can be written, visual, etc – whatever works best to communicate an idea without investing extensive time.
Timeline
Budget Estimate
Compensation
AIGA DC has a cash budget of $1,000 to pay for your services. Additional budget can be made available for music or other licensing fees.
In addition to our cash budget we can offer a range of in-kind sponsorship packages to bridge the gap between our cash compensation and the market value of your services.
Our Motion Graphics Package needs:
A logo bump
Templates for type, event image, speakers
Transitions
Sound Design
Music (AIGA DC can pay licensing fees separate from this project budget)
Examples from Current Template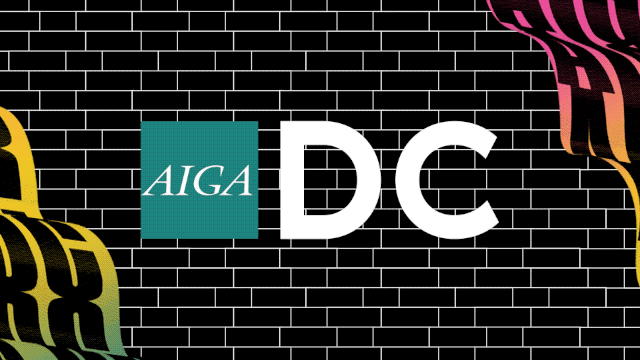 How We'll Use It
Ideally your motion graphics package is delivered as an Adobe Premiere Pro project file with editable template sequences. AIGA DC will use these templates for our 2021 events to create:
Creative Direction & Process
Your creative proposal should build on our existing AIGA DC Brand Style Guide & Assets Package.
If we select your proposal, we will arrange a creative kickoff to discuss additional questions and ideas.
We appreciate two rounds of review throughout the project to align on a final product. If you prefer more feedback we're happy to critique as much as you like.
Schedule
12.08.2020 – Request For Proposal Opens
01.08.2021 – Proposal Submission Deadline
01.11.2021 – Winning Proposals Notified
01.19.2021 – Project Kickoff Week
03.01.2021 – Project Delivery Deadline
Proposal Delivery & Contact Details
Please send your proposal to: Mike O'Brien, Communications Director (mobrien@dc.aiga.org) by January 8, 2021.
Reach out to Mike at any time for questions or clarifications. We're excited to hear from you!