The graphic design students at West Potomac Academy in Alexandria, Virginia were visited in March by Cecilia Cortes-Earle, an accomplished award-winning D.C. designer who focuses on integrated branding, advertising, and marketing communications.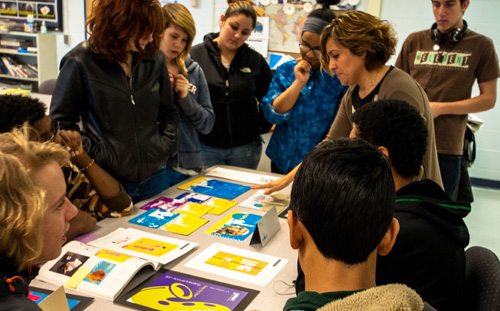 With barely an introduction, Cecilia enthusiastically launches into her talk and gives the budding student-designers a bit more information on how she came to be there. Originally from Peru, Cecilia has always brought a new and fresh perspective to the table. Even from a very early age, she remembers being drawn to examples of typography, packaging, and color. She states plainly, "I didn't know what it [graphic design] was, but I was always attracted to it."
The trouble was that graphic design was not a popular career choice in Peru. "I had to do a lot of convincing with my parents." The listening teenagers nod empathetically. They may not have to do the same degree of parental persuading with their career choices, but they still relate.
Cecilia tells the students about her transition to the U.S., and about transferring her credits to the Rochester Institute of Technology in New York—a brave and bold move that would take her far away from friends and family and put her in a country where Spanish was not the primary language. The courage she's sharing is infectious, and the tenacity, obvious. She tells them about finding her first job and that it took 10–15 cold calls to ad agencies around New York to get only one interview. It worked and she was hired.
"Find your niche. Find what makes you different from the other designers." Cecilia Cortes-Earle
Her secret? "Find your niche. Find what makes you different from the other designers."
"For me," she says, "I spoke Spanish and understood how to target the Spanish-speaking market in America."
The design students then gather around a table at the front of the room. On it is a collection of different items from Cecilia's portfolio. Everyone is excited to see physical examples: people pick things up, feeling the paper quality and inspecting die-cuts. A circle forms and questions ensue. She holds up a calendar for a pharmaceutical standards company, then a street banner for Urban Forest Project, and items for the Hispanic Chamber of Commerce. Next she produces an iPad from her bag and tests the students on the differences between Arial and Helvetica.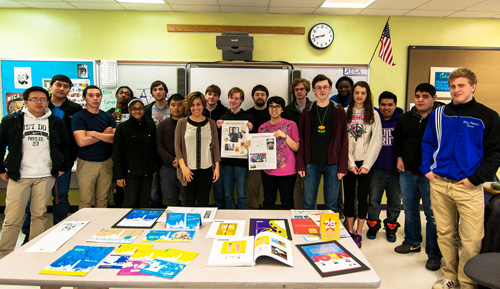 As the conversation dies down, Cecilia presents a short, conceptual thinking exercise. She walks around the room and gives each student a paper clip. "Your challenge is to think of unconventional ways that this paper clip could be used." After a few minutes of contemplative thought and fiddling with wires, different answers are given: re-fashioned jewelry, chain links, a hairpin, a twist tie, a texture for another design project and more.
The presentation for March is wrapping up, but Cecilia has one final piece of advice: "Remember, creativity is a nurtured skill. You are not born with it, it is developed."
Mariesa Dale is an AIGA Washington DC Chapter member and locally-based freelance art director. She covers the monthly AIGA DC Mentoring Speaker Series at West Potomac Academy in Alexandria, Virginia. For more information about this initiative or to speak at WPA, please contact Dian Holton at dian(at)aigadc(dot)org