SHINE is a four-month mentoring initiative launched by AIGA DC, designed to fertilize the career growth and professional success of emerging designers. This article marks the final post of the 2013 session.
I remember at the SHINE kick off meeting we were given a great piece of advice, "you'll only get out what you put in." So I knew it was important as a mentor to really devote as much time I could to my mentee, Laura Guzman. But I admit between our work schedules, her school work, and our boyfriends, we had a handful already so we had to use our time constructively. Since we finished the program a few weeks ago, I thought I would collect and share some helpful tips in being a mentor that proved to be successful for both Laura and me.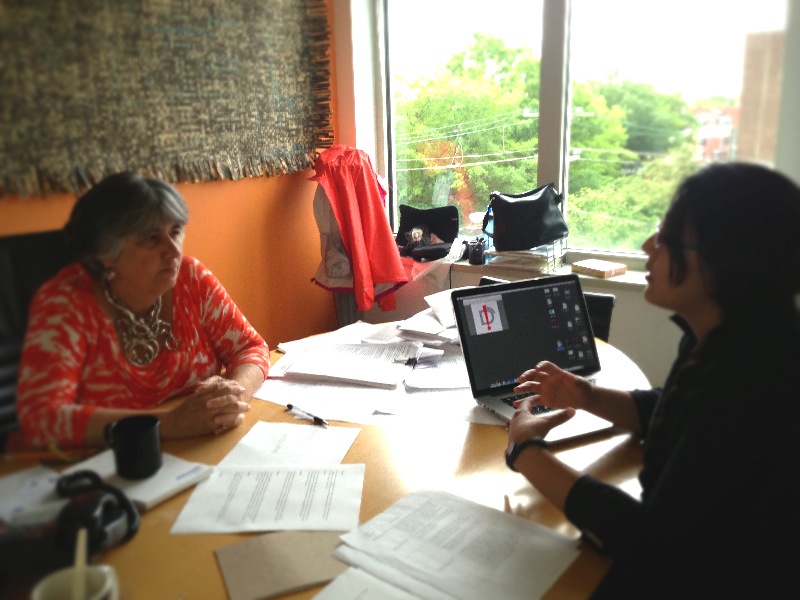 Mentors listen. After learning about Laura's hopes and dreams, I found her to be very inspiring. More importantly it gave me the insight I needed to know how to best meet her personal interests.
Mentors guide. From the get-go we established goals and and objectives and worked hard to keep things on track.
Mentors share. Whenever there was an opportunity, I used my network to help Laura out especially if there was something I felt that I may not have enough expertise on. And at the same time, this gave her the opportunity to meet other designers and build more professional contacts.
Mentors are practical. The first few months of mentoring are very important to stay as responsive as you can in order build a rapport that your mentee can count on you. And finally…
Mentors are fun.
In the end, all the time and work paid off.  I would say the most rewarding result of it all was knowing that our relationship would last, and continue to grow beyond the SHINE program.
…
A few weeks ago, Laura stopped by my office (see photo). Since she needed some help with writing a social design fellowship application, I introduced her to my boss, Judy Kirpich, since I knew she would be a great person to get some solid advice and constructive feedback from.
Laura Guzman Aguilar is a graphic designer who participated as a mentee in SHINE 2013.
Mila Arrisueño is a SHINE 2013 mentor and an art director at Grafik.com