A creative director once warned me that most designers plateau in their 30s. I disagree. But I do think we allow ourselves to become uninspired. As creatives, it's critical to never stop searching for inspiration, and especially in situations that don't involve the computer.
So, I signed up to be a SHINE mentor for a second time in a row, because I truly find it to be one of the most inspiring experiences that I've ever had. I met Laura, my mentee, a few months ago at the SHINE kick-off event. We plunged right into figuring out what her goals were, but after I got to know her more, I realized how much she's already accomplished.
Laura emigrated from Bolivia four years ago — alone — leaving behind her family and friends, with the hopes for a better future. She quickly decided to pursue her passion for graphic design, and as result of her hard work, was awarded a scholarship and is now attending UMBC. But what really stood out for me was her realization that she could use design as a positive tool to promote social change. Her passion is to one day work for nonprofits and make a difference through design.  She taught me that valuing how much she loves design and using her skills to give back to her community is the true measure of her success.
In many ways, Laura and I are similar, because we both believe in design for good causes. I'm fortunate to work with several nonprofit clients —nothing feels as rewarding as being part of the change through your work. Laura reminds me of how lucky I am, and how much more I could do.
I'm grateful to have met Laura and to be part of the mentoring team at SHINE, because it truly inspires me. I can only hope to inspire others.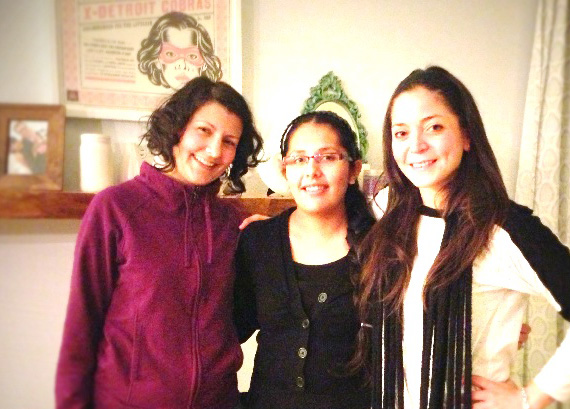 Laura had expressed interest in pursuing a masters degree in social design so I thought it would be a good idea to pay a visit to my good friend Mira who is attending MICA for social design to answer any questions she may have. We had great time and it was extremely informative for not just for Laura, but me as well.
Mila Arrisueño is a SHINE 2013 mentor and an art director at Grafik.com