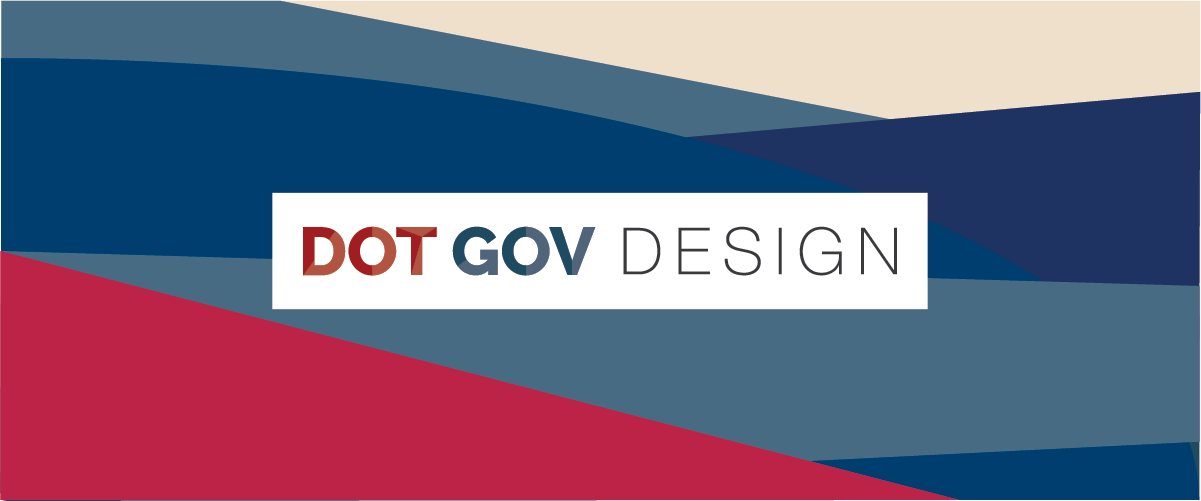 2019 DotGov Design Conference
Design is a critical part of government — it touches services and experiences that are critical to all of us as citizens. But it's hardly without its challenges. Rules and regulations, antiquated technologies, bureaucratic roadblocks — these are the things that every designer trying to do good has to deal with.
Join AIGA DC on Monday, May 6 in Alexandria, VA at the U.S. Patent and Trademark Office for the 2019 DotGov Design Conference! We will gather to talk about the challenges and triumphs of working for the public good.
And design isn't just pushing pixels — it's creating systems, processes, and products. So whatever your title or GS series, if you are working to make things better in government, you're one of us!
Conference Schedule
The schedule is subject to minor changes
Morning Session
8AM-9AM: Registration
9-9:15AM: Welcome & opening remarks, Paul Rosenthal, Deputy Chief Communications Officer at USPTO
9:15-9:50AM: Getting the work done: What government innovation really looks like, Hana Schank, New America
10-11:30AM
Choose between the following sessions:
Talks
Why the strategy is no longer the delivery: What happened after GDS?, Jack Collier, UK Ministry of Justice
Bringing design in house: Living in a post 18F world, Chris Mentasti, ONRR
DesignForHealth, Nikki Tyler, USAID
Bringing government into the design process, Anita Cheng & Lauren Jong, City of SF
Workshops
What legislation should say, Fiona Hecksher, US House of Representatives Office of Legislative Counsel, and Lori Thomas

Exploring social service patterns, Genevieve Gaudet & Lauren Peterson, Nava PBC
Unconference Session
Quiet leadership, Rica Rosario, Deloitte Digital

Lunch
11:30AM-12:30PM: Lunch on your own at the USPTO cafeteria or nearby spaces.
Afternoon Session I
12:30-2PM
Choose between the following sessions:

Social Hour & Talk
Social hour
Privacy by design: Translating privacy principles into practice, Stephanie Nguyen, Harvard Shorenstein Center,  formerly USDS

Workshops
Learn fast with lean research, Daphne Puerto & Ruihai Youngblood, Pivotal Labs
And you can, too! One staffer's take on making good social justice policy, from ideation to introduction, Elizabeth Hira, former member of Senator Kamala Harris' legislative team
Unconference Sessions
Creating an immersive design experience to map a complex system, Tim Vienckowski & Corrine Vizzachero, The Lab at OPM
Power to the podium: How to improve your presentations to get epic results, Brad Aldridge, Google
Afternoon Session II
2-2:30PM: Refreshments and mingling (in plenary and cafe spaces near workshops and unconference)
2:30-4PM
Choose between the following sessions:

Talks
Remote first: Lessons from running distributed, cross-disciplinary and still user-centered teams, Amy Ashida and team, 18F
Designing upstream: Design frameworks for influencing policy outcomes, Eric Chiu, Nava PBC
Workshops
Eating our own dog food: Designing our lives with creativity, confidence, & joy, Ashley Jablow, Wayfinders Collective & former Presidential Innovation Fellow
Limitations, constraints, and barriers, oh my! A playbook for tackling wicked problems, Eman El-Fayomi & Colin MacArthur, Canadian Digital Service
Unconference Session
Content is Design!, Kev Walsh, CivicActions, & Ryan Sibley, Nava PBC
Closing Session
4-4:15PM: Break, gather in main auditorium
4:15-4:40PM: Under the guise of technology, Kavi Harshawat, formerly USDS and New America

4:40-4:45PM: Closing remarks
Happy Hour
5:30-7:30PM: Trademark, 2080 Jamieson Avenue, Alexandria, VA 22314
---