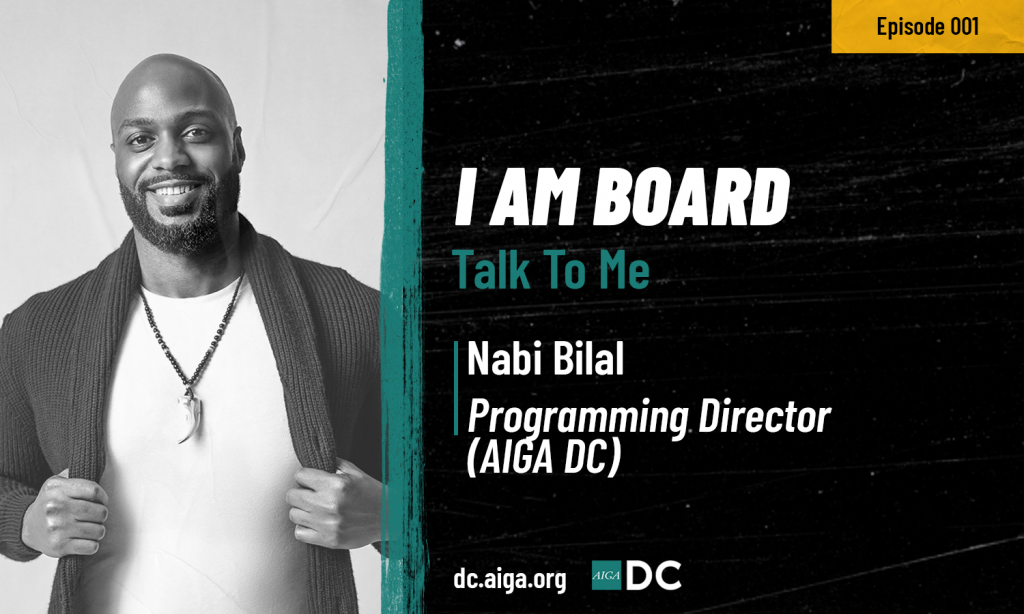 As we celebrate the contributions and accomplishments of Black designers throughout history, it's important to have conversations that deepen our understanding and appreciation of their experiences, perspectives, and legacies.
Today, we have the privilege of hearing from one of our board members. He has made significant contributions to his field and the wider DC design community. So, without further ado, let's begin our interview and celebrate the rich diversity and cultural richness that Black History Month represents.
Meet Nabi Bilal, AIGA DC's Programming Director and a member of our Board's core Executive Team! A DC native and entrepreneur, Nabi is the co-founder of CreativeJunkFood, a DC-based multimedia creative studio.
As Programming Director for AIGA DC, Nabi leads a team of boardies which hosts in-person salons, drink and draw events, virtual workshops, and more. Learn more about Nabi in our interview* below!
Tell us about your creative origin story – how did you become creative?
I [was] raised here in DC and attended Duke Ellington School for the Arts to study visual arts, so I was always either drawing or doing something creative. [Duke Ellington is] an arts magnet high school for everything from the visual arts to dance, theater, music, literary media, and more. If you were aspiring in any of those fields, it was the place to be, because you were going to be there with a bunch of other kids doing the same thing. You had to audition to get in, and you also had to keep a certain grade point average to be there. I felt like the knowledge we got there was more of a fine arts knowledge, but we did learn some basic design principles that I can draw back on when I sort of feel stuck.
I went to a Temple University for graphic and interactive design, but I actually didn't think I would go into design at all. It was sort of like the career that kept you from being a starving artist, so I just kind of got myself immersed in different aspects of it and saw that there were a lot of possibilities, which I loved. I really found my footing more in animation and illustration before I knew that those were considered aspects of design. So once I found that, I really felt like I had a reason to consider a design career.

How did you become a part of the AIGA DC community?
I first heard about AIGA while I was in college in Philly. I had some professors who were involved in the local chapter. More recently, my friend, Phim Her, nominated me to be part of AIGA DC's Board of Directors. I had seen a few events in years past, like AIGA50. But once I got the nomination from Phim to be a part of the Board, I became more integral from there.

Tell us about your current creative impact – what are you doing now in the community?
I'm a business owner – I own a studio called CreativeJunkFood, which does animation, video work, branding, and mural design. And you can get really wrapped up in your own thing – your business becomes your world, and you can lose that spirit of community. So what interested me about AIGA DC was the opportunity to step outside of where I was comfortable (continuing my business) and opening up my connections a bit more to have a better sense of community.
What's your favorite part of being on the board?
Serving on a board is a different way of giving back and figuring out how you can introduce new designers to people, or introduce people to the design field. They may feel like they don't belong. I kind of saw myself in that: Design could sometimes feel like an exclusive club that I didn't belong in. But if you're ready to take on a position of leadership, [joining the board] is a good opportunity to really challenge yourself and see what you're made of.
How do you celebrate Black History, and how can people educate themselves about Black History beyond February?
For me, Black history is something I celebrate all year round. I do my best to read up on individuals and history related to Black people in this country and the African Diaspora as a whole.
There's so much out there, but I recommend that people do their research to read about prominent individuals (Frederick Douglass, Malcolm X, Ida B. Wells, etc) and historical happenings in America. In particular, I recommend reading Ta-Nehisi Coates' We Were 8 Years in Power and watching Ava Duvernay's film "13th".
As the owner of a multimedia creative studio, How does being a person of African American descent affect your approach to entrepreneurship?
As an African American entrepreneur and owner of a creative studio, I take great pride in being able to use my gifts as a creative to enhance projects and messaging which speaks to issues that affect the Black community. In addition to the many things I'm interested in, I seek out projects that help me stay connected to and uplift my community.
Who are some notable Black creatives who have inspired you?
Leo Sullivan, Cey Adams, Aaron Douglass, Emory Douglass, Gordon Parks, Kara Walker, Gail Anderson, Art Sims, Sylvia Harris, Robert "Buck" Brown, Lyndon Barrois, Vanessa Brantley Newton, Floyd Norman, Saxton Moore.
What advice do you have for young Black creatives aspiring to go into entrepreneurship and become leaders in their profession?
Read so that you know your history, and continue to educate yourself. Take necessary opportunities to evolve where you can, and do not take opportunities for granted. Seek out and ask advice from people you respect and admire, but don't expect the answer about what you should or shouldn't do to always be clear.
Mentorship can come in many forms, whether through a book, a person, etc. Do not limit yourself because of someone else's perception of what you're capable of.
AIGA DC will open applications for select Board of Director roles in Spring 2023. Watch this space and sign up for our newsletter to learn when spots open!
We always need volunteers to help with one-time and longer-term projects that range from singular events to consistent committees. Fill out our survey and tell us how you'd like to help!
*AIGA DC edited this interview for length and clarity.