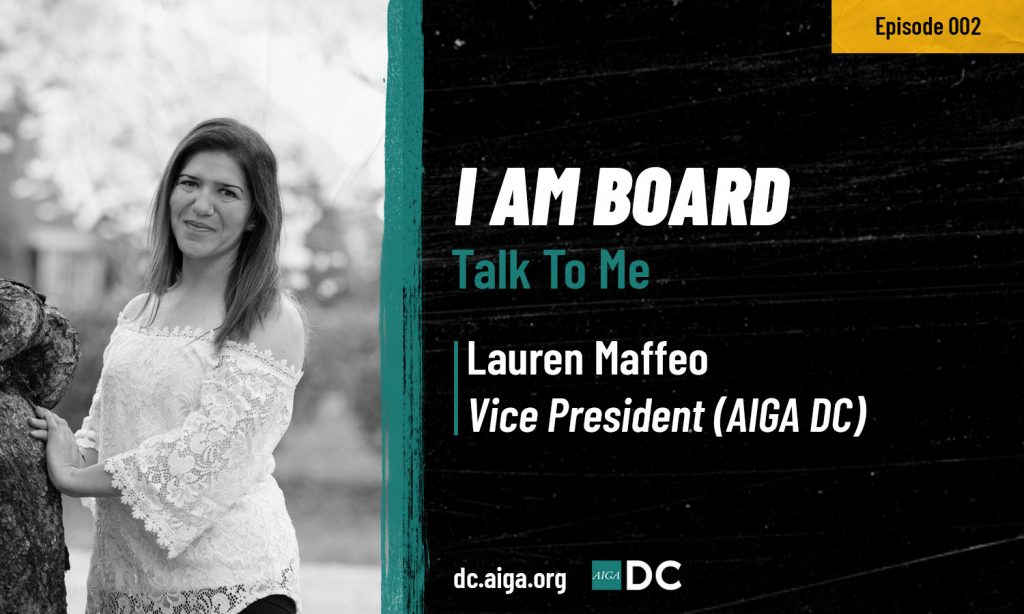 I AM BOARD | Meet Lauren Maffeo, Vice President
By Jessica Hoang, Operations Director & Treasurer AIGA DC
Throughout history, women have played pivotal roles in shaping our society, from advocating for civil rights to leading groundbreaking scientific discoveries and innovations. This month is an opportunity to reflect on the achievements of women and the progress made towards gender equality, while also acknowledging the challenges and barriers that still exist.
Today, we are honored to have a remarkable guest who has made significant contributions to their field and broken barriers along the way. They have demonstrated strength, determination, and resilience, inspiring others to believe in their own potential and to pursue their passions despite the odds.
We are thrilled to have this opportunity to learn from our guests, gain insights into their experiences, and celebrate the diversity and achievements of women everywhere. So, without further ado, let's begin our interview and honor the incredible legacy of women's history.
Meet Lauren Maffero, AIGA DC's Vice President and a member of our Board's core Executive Team! Lauren is a service designer at Steampunk, a human-centered design firm serving the federal government. She is also a founding editor of Springer's AI and Ethics journal and recently published her first book, Designing Data Governance from the Ground Up.
As Vice President for AIGA DC, she supports chapter operations, helps the President fulfill his agenda, and has spent the last four months leading the Chapter's four-person communications team as our interim Communications Director. Learn more about Lauren in our interview* below!
Tell us about your creative origin story – how did you become creative?
I started to become creative when I displayed an aptitude and interest in writing. Still, I didn't consider myself a quote-unquote creative because I've always been drawn to writing, reporting, and reading nonfiction. And I've also been more interested in writing in a professional context as opposed to more fictional ways of writing. I started to be a writer when I was young; I had my first articles published as a teenager.
I came into [the] design field quite late because I was working as a research analyst in tech when I saw an open role for a service designer at Steampunk. Before seeing that job opening, I had never heard of the term service design. Still, when I looked at the job description, I noticed that the essence of the role and responsibilities were an excellent fit for my interest and experience. So I decided to put myself forward for it.
I don't feel like I've ever had that traditional design aptitude for graphic and illustration skills, which is a big reason why it took me time to even consider myself a designer, let alone a creative. One of the reasons I love AIGA DC is that [the organization] celebrates all types of design, including the written word and its incorporation into the design.
How did you become a part of the AIGA DC community?

I found out about AIGA DC through my current role at Steampunk. Jen Sessoms, Steampunk's Chief Design Officer, reached out to all of the designers in our Design and Strategy practice in the winter [of] 2021, letting us know that board recruitment was open for the forthcoming year. When I saw a Managing Editor position open, that specifically piqued my interest, I knew this was a tangible way that I could immediately add value to the board. I was also interested because I was still working remotely during COVID, was new to the profession, and could not attend as many in-person events. I wanted ways to plug into the DC design community, so I put myself forward for that Managing Editor role. I got it and served as the board's first Managing Editor for a year. Then, when there was turnover on the board due to many people's terms finishing, I decided to apply for the open role of Vice President. I've been serving in this role for the last year.
What's your favorite part of being on the board?

The reason I've [joined the board is because of] the people who serve on it and the breadth of opportunities that we're able to provide designers in DC. When I attend board meetings and see all of the initiatives that boardies are leading – from AIGA50 to our Design Continuum Fund to help low-income designers advance their careers – it gives me a real sense of pride to know that I'm contributing to the DC design community in a tangible way.

Serving on the board has also been a huge growth and career opportunity. One really tangible example is that I had been interested in serving as an adjunct professor for some time, but didn't know how to get plugged into roles like that. A fellow board member shared an opportunity to teach a graduate course on interaction design at George Washington University, and I jumped at the chance.

Tell us about your current creative impact – what are you doing now in the community?

The main way I've contributed to design and the practice of design outside of AIGA DC is by teaching as an adjunct lecturer at the Corcoran School of Art and Design at GWU. I also published my first book, Designing Data Governance from the Ground Up. That book is officially available on all e-readers and in bookstores like Barnes & Noble. I chose that title intentionally because, at its core, data governance is a design challenge, and approaching it that way reframes the way tech teams solve it. Not many in the tech industry currently embrace that perspective, and my book makes a case for why that approach is most effective.

Who is a modern-day woman that you believe is making a significant impact on society and why?

When I think about women making a significant creative impact, I think of Lady Gaga first. There are two reasons: One [reason] is that as an artist and creative professional, she has produced so many great pop songs while branching out into acting, composing film scores, and singing very different genres of music like the Great American Songbook. And so, the breadth of her creative contributions is significant and something to admire.

[Secondly], as someone who lives with chronic pain, she has been open about how fibromyalgia impacts her career. [Having] seen her perform myself, knowing she does it as someone who is chronically ill, is incredibly inspiring. It's also inspiring to know that there have been times when she has decided to pull back from commitments to ensure that she's taking care of her health first. It's a form of self-care that more people should follow.
AIGA DC will open applications for select Board of Director roles in Spring 2023. Watch this space and sign up for our newsletter to learn when spots open!
We always need volunteers to help with one-time and longer-term projects that range from singular events to consistent committees. Fill out our survey to tell us how you'd like to help!
*AIGA DC edited this interview for length and clarity.