In our third and final installment of the NMAAHC dedication series, we talked to two people who have lent their professional skills to help bring about this momentous event. Liz Ott is an Account Director at Threespot, a DC-based digital agency, and a former AIGA DC president. Mike Englert is at Eighty2degrees, a creative design studio.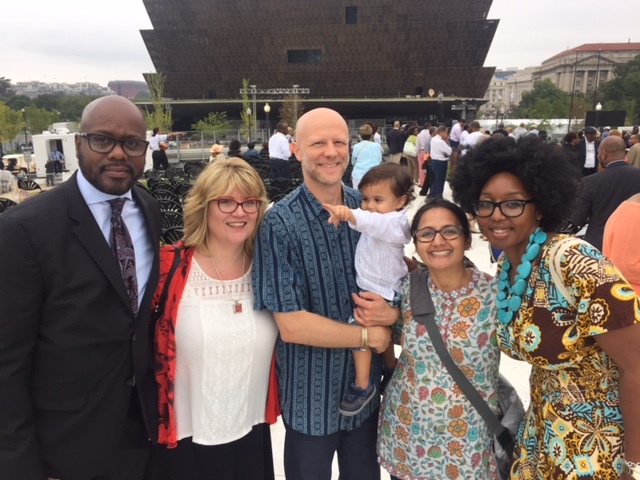 From left to right: Billy Mayfield, Anne Kerns, Mike Englert, his creative and life partner Ambica Prakash (current AIGA DC board member) with their son; and Dian Holton (current AIGA DC board member). (Photo: Dian Holton)AIGA DC: Liz, could you tell us a little about your work with the NMAAHC?
Liz Ott: Threespot has been working with the museum's communications team on defining and executing their digital content strategy for the past year, and I've been continuously impressed by the commitment of the museum's curators, educators, and communicators. When the opening day finally arrived, we had a Threespot team working throughout the weekend to support the grand opening efforts. I was able to spend time on the grounds to listen, capture, and curate stories from the day.
AIGA DC: What were some of the most memorable moments for you?
Liz Ott: I took the Metro to attend the grand opening and on the way there, I noticed a station takeover ad that read "Honor the past by being present." Those words stayed with me all day. I arrived feeling anxious that this was all too good to be true and worried that I would not be able to get in. After waiting in multiple lines, I learned that I was granted a press pass with unlimited access. At one point, as I waited in a security line, I watched Ava DuVernay, Lupita Nyong'o, Stevie Wonder, and Patti LaBelle pass by and somehow managed to keep my cool.
I started chatting with a man next to me and learned that he was Clarence B. Jones ("I Have a Dream" speechwriter and attorney for Martin Luther King Jr.). My "cool" quickly evaporated. We chatted for quite some time, and I felt more in touch with my history, our history, than ever.
The rest of the day was an emotional journey. I watched Samuel Jackson and Reverend Jesse Jackson shake hands and pose for pictures with the Tuskegee Airmen. I met the oldest living African American man with ALS (he was told fifteen years ago that he only had a year to live). And I was close to the stage, as President Obama welcomed this museum by saying, "And so this national museum helps to tell a richer and fuller story of who we are. … It reaffirms that all of us are America—that African-American history is not somehow separate from our larger American story, it's not the underside of the American story, it is central to the American story. That our glory derives not just from our most obvious triumphs, but how we've wrestled triumph from tragedy, and how we've been able to remake ourselves, again and again and again, in accordance with our highest ideals."
AIGA DC: And what was your own story from that day?
Liz Ott: I stood there wishing my black father and my white mother could be there with me. They got married just three years after Mildred and Richard Loving defeated the Supreme Court ban on interracial marriages. I wondered if my grandmother, who passed away almost 60 years ago, was watching me. She managed to have two Master's degrees in Louisiana during the early 1900s and fought hard to make sure her three sons went to college. It was the struggles and achievements of my relatives who made it possible for me to be there. I felt a part of the American history in a tangible way that I hadn't ever before. And embraced the fact that I was present to honor them.
Liz Ott's family history
The museum opening was a day full of unforgettable moments and glimpses at a history that has never been told or shared as comprehensively and vividly. African American history lessons in the past focused on big moments and big names, but not on the everyday battles that were fought nor on the struggles that were won despite it all. It was a day of celebration and recognition and I was able to attend as a visitor, and a participant.
AIGA DC: Mike, what was your professional engagement with the NMAAHC?
Mike Englert: Eighty2degrees has been designing print and digital promotional materials for the museum (off and on) for years, since even before the museum's groundbreaking. This year, we won the opportunity to create the strategic direction, and to implement the design, for the museum's multi-media grand opening marketing campaign. Because Eighty2degrees played such an instrumental role with this grand opening campaign, being there in person on this day filled me with awe and wonder.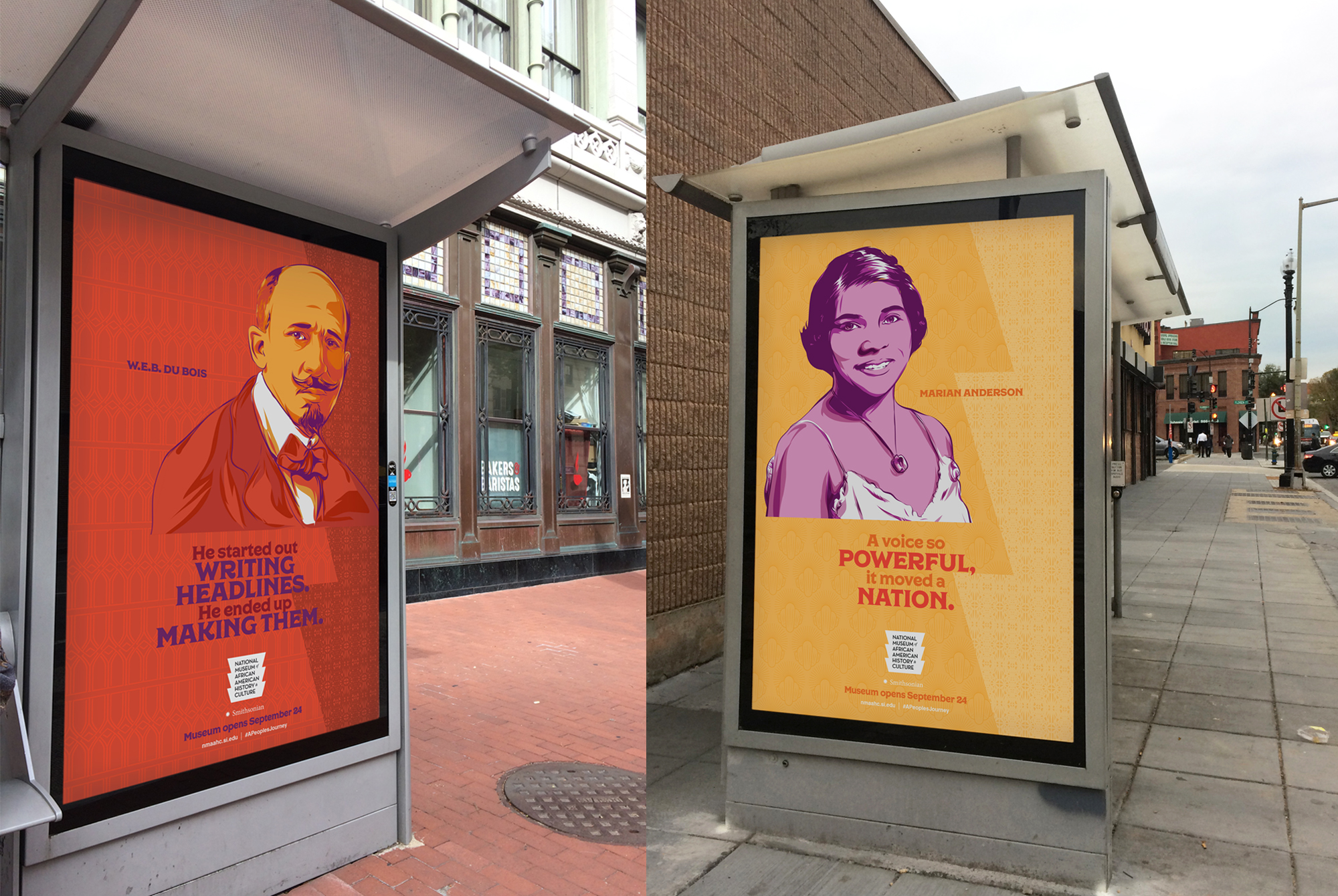 NMAAHC outdoor print campaign. (Photo courtesy of Eighty2degrees)
AIGA DC: What made you feel that way?
Mike Englert: Among the crowd, one could feel and see the raw emotions of joy, relief, disbelief, happiness, pride, and amazement as everyone from Oprah Winfrey and Will Smith took the stage, to Obama—our first African American President—being the keynote speaker, to the music of Stevie Wonder and the voice of Patti LaBelle singing "A Change Is Gonna Come."
Witness to so much of the past generation of civil rights struggle within the African American community, Congressman John Lewis was the perfect embodiment of the long journey from the vision and concept of such a museum to this truly grand opening!
Being there with my mixed-race family (my wife is from India), it was such a beautiful day to be alive. Our 17-month old son had a blast! Little did he understand the gravity of the occasion. Or did he?
. . .
. . .
Be sure to read more posts in this series:
"A 100 Years in the Making, the National Museum of African American History and Culture Welcomes Thousands"
"A Museum for All: AIGA DC Members on the Historic Importance of the National Museum of African American History and Culture"