Are you interested in expanding your skillset to include video and production? Transitioning from one design discipline into another can be difficult, but also provides the opportunity to leverage valuable skills you already have in order to expand into new career paths. Talk with creative director Brian Nguyen about how he made the switch and learn more about working in this ever-present medium.
At this early morning chat you'll learn ways to leverage your design experience to demonstrate your "eye," what skills you might need to learn, and so much more. Registration will open on Dec. 17th at 12pm, so mark your calendars!
AIGA DC Salons are free, intimate roundtable discussions open to AIGA members only. 
Check your AIGA membership status at AIGA.org before registering. Want to enjoy this member benefit? Join today: http://www.aiga.org/join/.
Accessibility
If you need any accommodations to fully access the event, please get in touch with Rebecca Perez salons@dc.aiga.org.
Our discussion will be held on the lower level, which is down a flight of stairs. The venue does not have elevator access. 
Code of Conduct
All AIGA DC events adhere to our Code of Conduct.
BIO: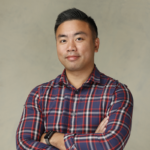 Brian Nguyen is the founder/CEO of BLN24, a creative agency that provides multimedia production, design, and technology services. Prior to starting his business in 2017, Mr. Nguyen was the Brand Manager & Media Director at Booz Allen Hamilton (BAH) where he was responsible for all company advertising and branding initiatives, including the production and direction of major ad campaigns on print, web, and film. While at BAH, Mr. Nguyen managed marketing campaigns valued at over $10 million. He won numerous internal as well as external industry awards, such as Silver Horizon Media's Interactive Award and MarCom's Platinum Award for outstanding achievement in interactive media production.  BLN24's current list of clients to name a few includes Johns Hopkins, Volkswagen, Department of Veterans Affairs, NIH, US Marines, NATO, Blue Mercury, OneLife Fitness, Google, and WeWork.