Product Design requires a collection of skills — including visual, user experience, and interaction design — to serve customer and business needs. In our region, companies hire product designers with limited experience via bootcamps and without prior design training, at salaries up to 50 percent higher than graphic designers. Graphic designers are uniquely qualified to move into the field and demand for product designers has never been higher. And no, you don't have to learn to code.
Join AIGA DC and Mollie Bates, Senior Product Designer at Upside Travel, to talk about expanding your skill set and increasing your income by transitioning from graphic design to product design.
If you're looking for a new professional challenge and a higher salary, join us to learn more about how to transition to product design
AIGA DC Salons are free, intimate roundtable discussions open to AIGA members only. Check your AIGA membership status at AIGA.org before registering.
Want to enjoy this member benefit? Join today: http://www.aiga.org/join/.
Questions? Email Rebecca Perez at salons@dc.aiga.org
This event is held on the lower level and is not wheelchair accessible.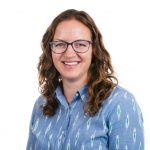 BIO:
Mollie Bates has worked as a designer in DC for 12 years. She currently works as a senior product designer for Upside Business Travel. Prior to Upside, she was a designer for the federal government for four years, serving at the U.S. Digital Service, the Small Business Administration, and the Consumer Financial Protection Bureau. Previously, she was a print designer at National Geographic Traveler and National Geographic Magazine. She co-founded AIGA DC's DotGov Design meetup and led the design for Code for DC's DC Abortion Fund Case Manager project. She's a devoted bike commuter, home renovator, and DC-enthusiast.