This event is at capacity and registration has closed. Thank you for your interest. 
Designing in the social sector has its own unique quirks: they aren't obvious from the start and don't show up in a "How to be a Graphic Designer" guidebook. From considering mobile first to developing a brand that crosses cultural barriers, this Salon is for those designing for non-profit, government and advocacy group clients and partners.
Whether it's your first time working with low-income audiences or you've been doing it for decades, technology is constantly changing and it's becoming more vital to understand how your design reaches those with limited resources.
Join AIGA DC and Liz Rose Chmela of Made By We in a members-only Salon for an important conversation on designing for underserved communities. Bring your experiences and questions to share with the group on how we can successfully reach these communities without compromising our designs.
Registration for this event is required, and will open at noon on Wednesday, October 2. AIGA DC Salons are free, intimate roundtable discussions limited to 12 AIGA members only. Want to enjoy this member benefit? Check out AIGA's new membership structure and join today.
Please plan to arrive at Teaism around 9:30 AM to allow time to purchase food and refreshments and chat with other attendees. We will start promptly at 10:00 AM.
Teaism: Google Map
Event coordinator and contact, Sarah Tanner: sarah@aigadc.org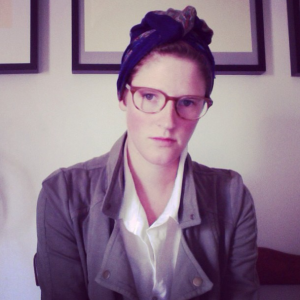 About Liz Rose Chmela
Liz Rose Chmela is the Founder & Creative Director of Made by We, a design collaborative dedicated to creating good design for good organizations. She spends her days knee-deep in wireframes, sharpies and pixels, creating engaging designs for her inspiring non-profit and social enterprise clients. She is a graduate of the first class of Firebelly University in Chicago and holds a Bachelors of Fine Arts in Graphic Design from Miami University. She has lived on three continents, is an active member of the AIGA, got her "big break" designing the Orbit Gum packaging, is a screenprinter on the side and tweets from @lchmela. She is generally over-caffineated.
---
What is DCDW?
From October 14th to 20th, DC Design Week 2013 is a week-long series of events that highlight and celebrate the impact of design and designers in our community and recognize the efforts and contributions of emerging and established local designers, architects, illustrators, photographers and others in the Washington DC area's creative collective. AIGA DC coordinates it with various partners and sponsors, but we count on you to attend and participate.
View more DCDW events and find out how to volunteer on the DC Design Week page.
Use the #DCDW hashtag to stay involved.
---
Thank you to this year's DC Design Week Sponsors
Presenting:
Digilink
Contributing:
HUGE
Rockcreek Strategic Marketing
In-Kind:
Dimension
Creative designed by Donald Ely