We're meeting virtually with local agency leader Jill Spaeth for some real talk about running your small agency (5–20 person) during these uncertain times. Join us to discuss what's working, and not, as well as share resources. You'll come away with tips, tools, and a sense of community at a time when the coronavirus has disrupted business as usual for you and your clients.
You will be able to submit questions/topics for discussion beforehand. All attendees will receive a submission form a few days before the event. This will help our moderators address a wide range of concerns.
Joining the call via video is required to ensure an engaging and positive conversation. No phones only.
AIGA DC Salons are free, intimate roundtable discussions open to AIGA members only. Check your AIGA membership status at AIGA.org before registering. Want to enjoy this member benefit? Join today: http://www.aiga.org/join/.
Accessibility
If you need any accommodations to fully access the event, please get in touch with Rebecca Perez salons@dc.aiga.org.
Code of Conduct
All AIGA DC events adhere to our Code of Conduct.
BIO: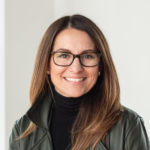 Jill Spaeth is co-founder and partner at Spaeth Hill, a forward-thinking design-build practice specializing in brand experiences, signage programs and curated moments. Spaeth Hill's clients include Smithsonian, DynCorp International and World Bank Group. She began her career in commercial real estate, at FOX Architects, focusing on architectural signage and design. In 2010, she founded Citizen Creative, bringing comprehensive sign plan development, wayfinding programs, large-scale interior branding and graphic design services to the D.C. area. In 2014, Jill was the only woman of five nominees selected to sit on the board of AIGA, the largest professional association for design. She oversaw programs and initiatives for the organization's 30,000 members, with a specific focus on fundraising and scholarship development through the Design Continuum Fund. The fund has become a national program allowing AIGA's 70+ chapters to develop their own scholarship programs locally. Spaeth received an executive education in business at Yale University's School of Management and has a B.F.A in graphic design from Rochester Institute of Technology. She frequently lectures at the University of Maryland and has taught graphic design history at George Mason University.