Join us for tea and conversation with artist and designer Frida Larios as she discusses creating a new Maya language graphic system based on this Pre-Columbian alphabet. Frida will also be sharing cultural objects that she has redesigned, plus excerpts from her book, Animales Interiores, a collection of Spanish-English Maya fables. Spend an hour with us and learn more about drawing from an ancient heritage to design for a contemporary audience.
Due to the fragility of some of the objects Frida will be sharing we ask that you place your food and drinks aside during the Salon.
Please plan to arrive at Teaism around 7:30 a.m. to allow time to purchase breakfast refreshments and network with other members. The Salon begins promptly at 8:00 a.m.
AIGA DC Salons are free, intimate roundtable discussions open to AIGA members only. Check your AIGA membership status at AIGA.org before registering.
Want to enjoy this member benefit? Join today: http://www.aiga.org/join/.
Questions? Email Rebecca Perez at salons@dc.aiga.org
BIO: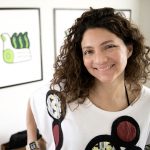 Frida Larios is Chair of Indigenous Advisory for the International Indigenous Design Network (INDIGO) at the ico-D (International Council of Design). She is the creator of #AnimalesInteriores an indigenous design project that partners with the Smithsonian Latino Center for Day of the Dead celebrations in the USA. Larios is currently an Adjunct Professor in Art and Design at the University of the District of Columbia in Washington, D.C., where she lives. She holds an MA in Communication Design from Central Saint Martins College of Art & Design, University of the Arts London. For nearly 15 years she has dialogued diverse Mesoamerican narratives around the world – for children, youth and designers, through exhibitions, workshops, installations, books, artworks, and textiles; including the commission of the Toronto 2015, Pan-American Games inaugural uniform and the Rio 2016, Olympic T-shirt line co-designs for the El Salvador Olympic delegation. She has been featured in Smithsonian Magazine online, BBC2, BBC Radio 4, Copa Airlines TV, The Daily Telegraph, Courrier International, TASCHEN, Thames & Hudson, among others.
Salon graphic by Kristina Escala