The 2020 Census is the largest civic action undertaken by the entire country and it's launching April 1, 2020. The results of the census will be crucial for determining how $800 billion in federal funding is allocated across the country.
Come meet Drew Zachary, Director of The Opportunity Project and Co-Director of the Census Open Innovation Labs to learn how this online-first census is focusing on collaboration and open data. We'll talk about how teams of technologists, creatives and grassroots organizations can work together on project sprints that combine open data to create effective and engaging digital products that solve public issues.
AIGA DC Salons are free, intimate roundtable discussions open to AIGA members only. 
Check your AIGA membership status at AIGA.org before registering. Want to enjoy this member benefit? Join today: http://www.aiga.org/join/.
Accessibility
If you need any accommodations to fully access the event, please get in touch with Rebecca Perez salons@dc.aiga.org.
Our discussion will be held on the lower level, which is down a flight of stairs. The venue does not have elevator access. 
Code of Conduct
All AIGA DC events adhere to our Code of Conduct.
BIO: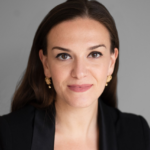 Drew Zachary is Co-Director of Census Open Innovation Labs and Director of The Opportunity Project where she leads open innovation and human-centered design initiatives. Previously, Drew was a Policy Advisor at the White House Domestic Policy Council and senior analyst at the Commerce Data Service. Throughout her federal career, Drew has worked with urban, rural and tribal communities to use data, science and technology in support of local economic development goals. At HUD and HHS she designed federal program evaluations and policies to support cities, including the Promise Zones Initiative. Drew has also led design research for technologies to improve healthcare delivery and urban public health interventions.