Font design is both an art and science, and as designers, we understand how complex they can be. Come meet Operations Director, Richard Bailey, and Creative Director, Lukas Paltram, from Dalton Maag — a typeface design studio based in the UK — and learn about variable fonts: how they are made and what they can do.
The introduction of variable font technology has proven to be a game-changer in how we make fonts and use them online. The new technology has also opened up a huge creative playground for designers. Join us and learn more about how these new fonts make online typography more efficient and responsive.
AIGA DC Salons are free, intimate roundtable discussions open to AIGA members only. Check your AIGA membership status at AIGA.org before registering.
Want to enjoy this member benefit? Join today: http://www.aiga.org/join/.
---
This very special Salon will take place in a different location than usual and space is very limited. Don't miss out, be sure to register today!
---
Accessibility
If you need any accommodations to fully access the event, please get in touch with Rebecca Perez salons@dc.aiga.org.
Our discussion will be held in the conference room, which is up a flight of stairs. The venue does not have elevator access. 
Code of Conduct
All AIGA DC events adhere to our Code of Conduct.
BIO: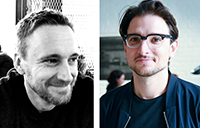 Dalton Maag is a typeface design studio, founded in 1991. From its base in London, England, Dalton Maag works with designers and branding specialists worldwide to help clients find their best typographic expression, from logotype refinement and font licensing to the creation of custom font suites. Behind Dalton Maag is an international team of 40 type designers, font developers, creative directors, software engineers and support staff, spanning 20 nationalities and speaking 12 languages. They work with clients large and small, local and global, on a range of type-related services including logo refinements, font modifications, as well as small, medium, and large bespoke custom fonts.