Have you ever wondered what it's like to create over 100 gifs? Join us for an intimate lunch-time conversation with prolific designer and DC native Pablo A. Medina as he talks about his recent work to encourage voter turnout for Into Action , an initiative created by TaskForce. The gifs, created by multiple artists and designers, relate to current events, including COVID-19, racial justice, and immigration, and have received over 18.9 billion views on Giphy.
In addition to his nonprofit work, Pablo will touch on managing a wide variety of projects from books to branding, maintaining a fine art practice, and so much more.
AIGA DC Salons are free, intimate roundtable discussions open to AIGA members only.  Check your AIGA membership status at AIGA.org before registering.
Want to enjoy this member benefit? Join today: http://www.aiga.org/join/.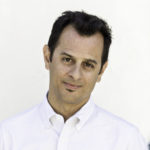 BIO:
Pablo A. Medina is a graphic designer born and raised in Washington DC. In 1999, his typeface designs were exhibited at the prestigious Design Triennial exhibition at the Smithsonian's Cooper Hewitt Museum. He is the recipient of the Art Directors Club Young Gun award. He has taught art and design at Parsons School of Design and California College of the Arts (CCA). A book that he designed along with the artist Beatriz Milhazes is part of the Museum of Modern Art's (MoMA) Library Archives. Pablo has worked with some of the leading creative agencies in New York including SYPartners, Y&R and The Fader. Currently he is working with his client Taskforce/IntoAction designing animated GIFs encouraging the highest voter turnout in US history.