This event is at capacity and registration has closed. Thank you for your interest.
Design has many layers, and we're not just talking about the ones in your Photoshop file. Technology has made design an integral part of daily life and it's becoming more important to understand the correlation between visual components and usability.
Join AIGA DC and AIGA 50 Judge Conor Brady, Chief Creative Officer of Huge  in a members-only Salon to discuss the intersection of design, user experience, and narrative. Bring your experiences and questions to share with the group.
Registration for this event is required, and will open at noon on Friday, November 1. AIGA DC Salons are free, intimate roundtable discussions limited to 12 AIGA members only. Want to enjoy this member benefit? Check out AIGA's new membership structure and join today.
Please plan to arrive at Teaism around 7:30 AM to allow time to purchase food and refreshments and chat with other attendees. We will start promptly at 8:00 AM.
Teaism: Google Map
Event coordinator and contact, Sarah Tanner: sarah@aigadc.org
---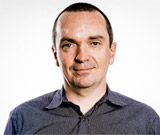 Conor Brady
Chief Creative Officer, Huge
Conor Brady is Chief Creative Officer at Huge where he oversees the agency's creative teams throughout the United States, Europe, and Latin America.
Before joining Huge, Conor served as the Chief Creative Officer at Organic, where he was responsible for overseeing the creative discipline across all offices in the United States and Europe. He joined Organic from Razorfish, where he was a creative director in London and New York. He has worked with many of the world's largest brands, including Pepsi, Nike, Audi, Intel, Hilton, VW, BBC, Bank of America, P&G and Condé Nast.
Although he spends most of his time working in digital, he loves design in all forms. He began his career by helping create the first 100 book covers for Vintage Paperbacks at Random House, then moved into the music industry as a creative director at Universal Music/Polygram, designing record covers. Conor is also an avid cyclist and spent time racing in Europe. He lives in Brooklyn with his wife and runs Elcyclista, a journal about the intersection of design and cycling, in his spare time.