Join us for an early morning conversation with prolific digital illustrator Tracie Ching as she talks about her process, Patreon, and paying it forward. Whether it's a movie poster, editorial illustrations or political art, Tracie's bold and complex work is captivating. Let's talk all things illustration over tea as Tracie shares her insights into creating fulfilling work and a career. 

THIS EVENT IS CURRENTLY SOLD OUT.
AIGA DC Salons are free, intimate roundtable discussions open to AIGA members only. Check your AIGA membership status at AIGA.org before registering.
Want to enjoy this member benefit? Join today: http://www.aiga.org/join/.
Questions? Email Rebecca Perez at salons@dc.aiga.org
BIO: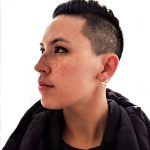 Living and working in Washington, DC, Tracie Ching is a self-taught digital artist specializing in complex, graphic portraiture. Her work often involves a limited palette – a tendency-turned-style after years of working in the medium of silkscreen prints. While commissioned for a wide range of projects including commercial athletic apparel, editorial illustration, and gallery work, Tracie Ching is best known for her alternative movie posters. Past clients include 20th Century Fox, Adidas, Adobe, AMC, CBS, Disney, ESPN, Fortune Magazine, Google, GQ, Marvel, Marvel Studios, MGM, Lionsgate, Newsweek, Penguin Random House, POLITICO, The London Times, TIME, Sony Pictures, and Universal Pictures.