Race, gender, and ethnicity all influence the creative field. Yet, in creative industries that influence, guide, motivate, recommend, direct, bring emotion, and generate call-to-action, diversity should not be missing, but often is.
Join AIGA DC and AIGA Fellow Rodney Williams of RCW Communication Design Inc. in a members-only Salon to discuss what diversity brings to creative industries and how we can embrace differences to bring forward our best creative solutions.
Registration for this event is required, and will open at noon on Wednesday, April 23.
AIGA DC Salons are free, intimate roundtable discussions limited to 12 AIGA members only. Want to enjoy this member benefit? Check out AIGA's new membership structure and join today.
Please plan to arrive at Teaism around 7:30 AM to allow time to purchase food and refreshments and chat with other attendees. We will start promptly at 8:00 AM.
Teaism: Google Map
Event coordinator and contact, Sarah Tanner: sarah@aigadc.org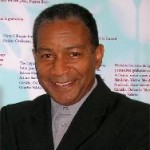 About Rodney Williams
Rodney Williams is a dedicated creative professional with 30+ years of expertise producing award-winning communications products including branding, collateral, marketing, web, print, social media, and exhibition. Expertise serving a diverse audiences, particularly governmental agencies and the health, science, and academic communities.