When asking someone about their career, we always want to know: what is that one thing, that piece of good advice, that open door, that freak chance, that got them to where they are today. But we know that it's never really just one thing.
For this event we're bringing together emerging and seasoned designers to talk about the whole journey to success in the creative industry.
First, you'll break into roundtable discussions facilitated by practicing professionals to ask and maybe answer pressing career questions. Then we'll all come together for a panel discussion with local creative leaders in the branding, digital design, and fashion industries. They'll talk about how they got to where they are, give advice on how to succeed in a creative industry, and answer audience questions.
Event Panelists:
Greg Spraker, Senior Art Director at Grafik.
Virginia Arrisueño, Founder/Creative Director at DeNada.
Kojo Boateng, Creative Lead at Dynaxys.
Soung Wiser, Founder/Creative Director at The General Design Co. 
Panel moderated by:
Nathan Hill, Partner and Design Lead at SpaethHill and design educator at GWU Corcoran.
About AIGA EMERGE Awareness Week
AIGA EMERGE  is designed to engage emerging designers in the first five years of their careers - whether it's their first career or a new direction.
EMERGE Awareness Week is happening nationwide from September 24 through October 3. The EMERGE Initiative is a tailored experience to engage with emerging designers with up to five years of experience in the field. EMERGE aims to provide content within the areas of employment, growth, leadership, entrepreneurship, and life skills. #aigaemerge
Design Continuum Fund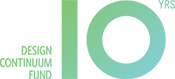 A portion of the proceeds from this event goes to the AIGA DC Design Continuum Fund (DCF) scholarship. DCF is celebrating 10 years of fostering the next generation of designers through helping local design-minded and underrepresented students as they pursue their education.

Many thanks to our event supporter:


HP
Our sincerest gratitude goes out to HP. As a supporter of the creative community, HP empowers emerging designers and seasoned professional alike. Utilizing their Innovation Labs and technology, they are elevating the user experience and engagement in all aspects of labels, packaging, graphic design, photography, signage, display, and many more.
Space sponsor



Alley, powered by Verizon
Alley powered by Verizon locations are developed by Verizon, the world's leading technology company, in collaboration with Alley, a membership-only community workspace for creators. Each location is a curated community powered by the emerging technologies and thought-leadership of Verizon. To learn more visit www.youralley.com.
PANELISTS DETAILS



Greg Spraker
Senior Art Director at Grafik in Alexandria, VA
Website: https://www.behance.net/PushingGiants
Twitter & Instagram: @pushinggiants

Biography:
Greg Spraker is an ardent believer that creative thinking seldom happens while staring at your screen or trapped in a conference room. A self-taught designer, Greg is the Senior Art Director at Grafik bringing a wild-eyed passion for authentic design and big thinking. His clients past and present have included Hasbro, Warner Bros., Wolf Trap, Booz Allen Hamilton, EYA, Honda, and Merritt Companies, to name just a few. His expertise includes full-scale brand identity development, editorial design, packaging, signage and way-finding, digital design, and advertising. And, over the course of his 20-year career, Greg's work has been published in various magazines and books, recognized by AIGA 50, the Ad Club, Rebrand, and more.
Outside of the office, Greg freelances as Pushing Giants, collects interesting (yet, sometimes meaningless) facts, raises an English bulldog, reads when he can, and spends as much time with his wife and daughters as they can stand.

Virginia Arrisueño
Founder/Creative Director of contemporary knit apparel and accessories brand, DeNada.
Website: https://denadadesign.com/
Twitter & Instagram: @denadadesign

Biography:
Arrisueño currently lives in Washington, DC with her best friend and husband, artist Kelly Towles, their son, and their dog, Kobi. Virginia Arrisueño received her BFA at the University of Maryland, where she focused almost exclusively on fiber art. Her creative talent and technical skills were duly recognized through several awards including the Sadat Art for Peace Award, delivered by Nelson Mandela, and first prize in Viridian Artists, Inc National Competition juried by the late Robert Rosenblum, curator at the Guggenheim Museum in NYC. Arrisueño also interned at the DC's Hirshhorn Museum and Numark Gallery, and Vertigo Gallery in London.
She put her business savvy and artistic aptitude to work and established DeNada (which commonly means "you're welcome," in Spanish). DeNada is a contemporary knit apparel and accessories brand for women and men. Virginia blends contemporary style with elements of her Peruvian heritage to offer unique, handmade pieces.
"As a first-generation American, I find it important to thoughtfully combine traditional elements of my Peruvian heritage with modern style to offer my customers high-quality knitwear that is not just another accessory but a work of art." – Virginia Arrisueno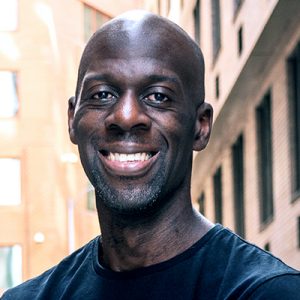 Kojo Boateng
Creative Lead at Dynaxys
Website: http://www.kojoboateng.com/
Twitter & Instagram: @kboateng
Biography:
Kojo Boateng is an award-winning multidisciplinary designer and creative director from London, now living and working Washington, DC. He studied graphic design at the London College of Printing and Middlesex University where he received an MA in video production. He has worked for Complex Media, NPG Group, BBC, ITV News and Universal Music. His work as a product designer includes working for Human After All, Wordeo App, VPAR Golf and Washington DC based technology company Dynaxsys. During his time at IT News he led a team of designers that pioneered the use of 3D and Live Studio VR for television news, most notably during the 2010 UK General Election.
Boateng has contributed to numerous awards including Promax/BDA Europe Award for Virtual Set Design, BAFTA: Best News Coverage 2014, The Murder of Lee Rigby,  RTS Best News programme 2005-2009. His work has been featured in the Design Week, Creative Review, The Guardian, The Times and The Telegraph. His work for ITV News is featured in the book Color Works authored by Eddie Opara and published by Rockport.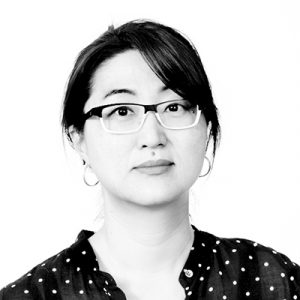 Soung Wiser
Founder/Creative Director at The General Design Co
Website: http://generaldesign.co/
Instagram/Facebook/Twitter: @generaldesignco
Instagram: @ssswiser
Biography:
Soung is the Founder and Creative Director of General Design Co., a Washington DC-based design studio providing branding and creative services for people, causes, and companies that genuinely care about what they do and how they do it. She gets immense satisfaction out of distilling complexity into simplicity and creating delight and surprise out of the ordinary. She has cultivated a team that understands design is not a commodity but a powerful tool that influences how people think, feel and behave. Her clients include icons from the local food and beverage scene such as All Souls Bar, Buffalo & Bergen, Dolcezza, Right Proper Brewing Co., The Salt Line, and José Andrés' Think Food Group, as well as established nonprofit rockstars like the Human Rights Campaign, World Food Program USA, WAMU 88.5, and Society for Neuroscience.
Soung's work has been recognized and published by Graphis, Communication Arts, Print Magazine, How Magazine, AIGA, the American Advertising Federation, Food & Wine, Hospitality Design, and more. She holds a BA in graphic design from The Pennsylvania State University and has taught typography and packaging design at American University. One of her highest highs was once being referred to as MacGyver. One of her lowest lows was once having to wear a neck brace from playing too much Tetris.
MODERATOR DETAILS



Nathan Hill
Partner/Design Lead at SpaethHill
Website: https://www.spaethhill.com/
Twitter: @NathanHillD Instagram: @nathanhill_thefirst @spaethhill
Biography:
Spaeth Hill specializes in space activation through the development of interior design and specialty branding programs. This specialty also lends itself to extensive experience in designing and producing comprehensive signage programs. The studio works collaboratively with large to micro brands across various disciplines, from defense contracting to retail and restaurant projects. Spaeth Hill is passionate about design's ability to solve problems as well as its ability to add value to business goals. Meaningful and collaborative conversations lead to the most forward-thinking outcomes.
Nathan oversees the studio's work and leads the team's creative process. In addition to his work with Spaeth Hill, Nathan is an adjunct instructor and lecturer at GW's Corcoran College. He continues to explore visual art through collaborations and self-initiated projects. In 2015 he
began DC's first creative interview podcast series.
For any questions:
Reach out to raksa@dc.aiga.org