For ten years, the AIGA DC Design Continuum Fund's mission has provided financial assistance to underrepresented students attending college in our shared community. In honor of this milestone, we're hoping to award ten scholarships this year — far more than we've ever been able to do.
We'd like you to join us for an intimate dinner to help support this mission — all proceeds will go to support the Fund — with special guest, local artist Kelly Towles.
Kelly Towles has far surpassed his University of Maryland's teachers' reviews that his work is "cute but will never amount to a career." His work envelops DC, from large scale outdoor murals to partnerships with brands like Dolcezza, DC Brau Brewing Company, Graffiato, Toki Underground, and DC United. Additionally as the Regional Director of POW WOW DC, he helps produce a festival where artists from around the globe travel to DC to paint larger-than-life murals. Kelly is passionate about community impact and regularly contributes to neighborhood revitalization through his street art.
Given his devotion to social change, Kelly is the perfect guest for a special dinner in honor of the 10th anniversary of the AIGA DC Design Continuum Fund's scholarship. Open to only eight, attendees will get to make a real difference for underrepresented students in our community and get to hear and learn from Kelly. This is a unique opportunity — and we hope you'll be able to come.
The Event
Be one of eight guests to share an evening of delicious food and conversation with this local powerhouse.
Guests should arrive at 6:30 PM, dinner will be served at 7 PM.
The event will take place at the house of an AIGA member in DC - the specific address will be provided to registrants the week of the event.
All Tickets*: $150 per person
Food Allergies
Please immediately inform Dian Holton of any allergies you may have.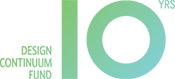 *100% of the proceeds from this event goes to the AIGA DC Design Continuum Fund (DCF) scholarship. DCF is celebrating 10 years of fostering the next generation of designers through helping local design-minded and underrepresented students as they pursue their education.