In today's economy, designers need a new strategy to earn trust and help consumers and citizens make confident decisions. But undermining confidence is cynicism: it erodes trust in the media, government, public institutions, and consumer brands. To regain trust, we talk about empathy, transparency, and authenticity. But how do we get beyond those buzzwords—and what is the responsibility and opportunity for designers, writers, and marketers to lead the way? The secret is in how we use content to empower our audiences: when we give more control to users, they put more trust in us.
Examining what works among teams of all stripes and sizes, Margot will share examples from retail, publishing, government, and other industries to detail what you can do to meet unprecedented problems in information consumption. Learn how voice, volume, and vulnerability can inform your work to regain trust and lead your audience and organization from cynicism toward something far more productive: hope.
After Margot's webinar, participate in a moderated discussion with Coforma's Co-founder, Eduardo Oritz. Eduardo will kick us off with some questions for Margot and then moderate the questions coming from attendees.
Key takeaways:
Learn why now isn't the time for a big brand overhaul—but the perfect time deliver a familiar look and feel
Discover how the amount of information on the page or in an experience builds user confidence
Explore how vulnerability in tone, content types, and imagery builds rapport with your audience
We have 25 signed physical copies of Margot's book, Trustworthy, for folks around Washington, DC for pickup from Teaism Penn Quarter, Oct. 2nd, between 1-4 PM ET. Register now to add a signed copy to your event ticket.
Event graphic made by David Hunt // Website & Instagram
Accessibility
Live Closed Captioning will be provided for this Zoom event.
Our events feature presentations with motion graphics. We restrict most full-screen motion to the opening and closing segments of our events. Please reach out to the organizer if motion graphics are a barrier.
If you need any additional accommodations to fully access the event, please send an email to accessibility@dc.aiga.org.
Code of Conduct
All AIGA DC events adhere to our Code of Conduct.
Design Continuum Fund
Proceeds from this event will go to the AIGA DC Design Continuum Fund (DCF) scholarship, fostering the next generation of designers through helping local design-minded and underrepresented students as they pursue their education.
Question?
For any questions about this event, reach out to raksa@dc.aiga.org .
About Our Speaker
Margot Bloomstein. She/Her/Hers. Book author, Speaker, Content Strategist, Principal of Appropriate, Inc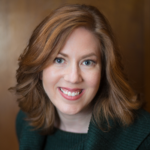 About Margot Bloomstein 
Margot Bloomstein is one of the most prominent voices in the content strategy industry. She is the author of the critically acclaimed Trustworthy: How the Smartest Brands Beat Cynicism and Bridge the Trust Gap and the industry mainstay Content Strategy at Work: Real-World Stories to Strengthen Every Interactive Project. She is also the principal of Appropriate, Inc., a brand and content strategy consultancy based in Boston. For more than 20 years, Margot has taught workshops, keynoted conferences, and advised marketing teams around the world. She developed the popular message architecture-driven approach to content strategy and created BrandSort, a tool embraced by consultancies to help organizations clarify their communication goals. Her clients include the American Montessori Society, Harvard University, Fidelity, Lovehoney, Scholastic, Sallie Mae, Timberland, and the Rhode Island Public Transit Authority. A participant in the inaugural Content Strategy Consortium and featured speaker at SXSW, Margot advises Women Talk Design, a platform for speakers in design, and teaches in the content strategy graduate program at FH Joanneum University in Graz, Austria. She lives outside Boston and lectures.
Links: Website, Twitter, Linkedin
About Our Moderator
Eduardo Ortiz. He/Him/His. Chief Executive Officer, partner, and co-founder at Coforma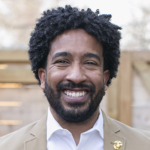 About Eduardo Oritz
Eduardo Ortiz is Chief Executive Officer, partner, and co-founder at Coforma. He was most recently Executive Creative Director at the US Digital Service. He has over 19 years of experience as a software engineer, UX designer, and information architect. He co-founded Project100, a women-led, women-focused organization that helped elect 100 progressive women candidates to Congressional office in the 2018 elections. He is a co-founder of BKUX, one of the fastest growing design communities in New York and a local leader for the Interaction Design Association (IxDA). Before co-founding Coforma, Eduardo was Design Director at Ralph Lauren, where he oversaw the replatforming effort for their ecommerce properties, and led the team that made the platform accessible to all. He cherishes working as an advocate and helping to bring a sense of normalcy to those in need.
Industries: Military, eCommerce, Fashion, Government, Advertising
Soft skills: Empathy, advocacy
Languages: Fluent English, Fluent Spanish