The 15th biennial AIGA 50 design competition celebrates all facets of creative work in the DC area. More than a beauty contest, AIGA 50 honors design that makes an impact.
Enter by February 23, 2018, for the chance to be honored as a part of DC design history and join us in celebration of our community.
About
AIGA 50 is presented by AIGA DC, the Washington, DC, chapter of the professional association for design. AIGA advances design as a professional craft, strategic advantage and vital cultural force. As the largest community of design advocates, AIGA brings together practitioners, enthusiasts, and patrons to amplify the voice of design and create the vision for a collective future.
For more than 30 years, the DC chapter of AIGA has grown to include more than 1,200 members throughout the DC area, and is the fifth largest chapter in the nation. Our educational programs and member events provide forums for sharing ideas and resources, and our public service initiatives help make design accessible to everyone. From college students to firm principals to local service providers, everyone can find a place in the AIGA DC community to learn, grow and excel.
Have what it takes?
AIGA 50 celebrates the government problem-solvers, startup go-getters, the nonprofit champions, and all of DC's many other makers and changers. Enter today to join the ranks.
For full program details, judges, and categories please visit: https://50.dc.aiga.org – but hurry! Entries close at 5PM on Friday, February 23.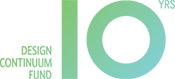 A portion of the proceeds from this event goes to the AIGA DC Design Continuum Fund scholarship. We're celebrating 10 years of fostering the next generation of designers through helping local design-minded and underrepresented students as they pursue their education.