Graphic made by Rachel Newman
During May's (AAPI) Asian American and Pacific Islander Heritage Month, AIGA DC recognized AAPI creatives using creativity to tell their heritage story, public awareness of AAPI issues, or create something to benefit the AAPI community.
Featured AAPI Creatives:
Robin Ha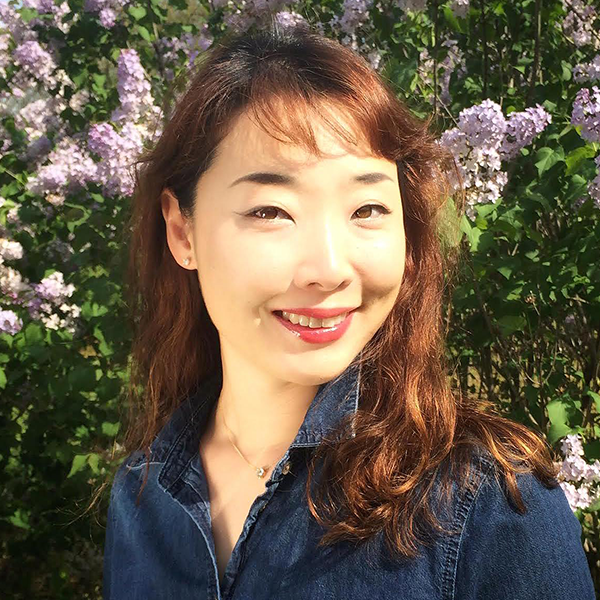 Robin Ha (she/her) is a Korean American cartoonist based in Washington DC. She is the author and the illustrator of Almost American Girl, a 2021 Walter Award honoree memoir. Robin grew up in Seoul, South Korea, and moved to the United States at age fourteen.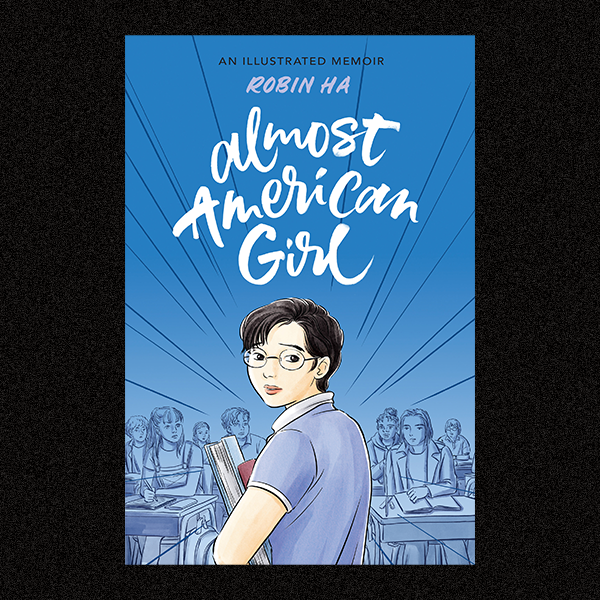 Almost American: A Memoir
For as long as she can remember, it's been Robin and her mom against the world. Growing up as the only child of a single mother in Seoul, Korea wasn't always easy, but it has bonded them fiercely together.
So when a vacation to visit friends in Huntsville, Alabama, unexpectedly becomes a permanent relocation — following her mother's announcement that she's getting married — Robin is devastated. Overnight, her life changes. She is dropped into a new school where she doesn't even understand the language. At home, she struggles to fit in with her new stepfamily. Worst of all is that the person she counted on most in the whole world — her mother — has betrayed her.
Then one day Robin's mother enrolls her in a local comic drawing class, which opens the window to a future Robin could never have imagined.
In the tradition of graphic novel memoirs such as AMERICAN BORN CHINESE by Gene Yang; Almost American Girl is a deeply moving memoir about immigration, belonging, and how art can save a life.
For more information: Instagram, Website, Linktree
Donny Trương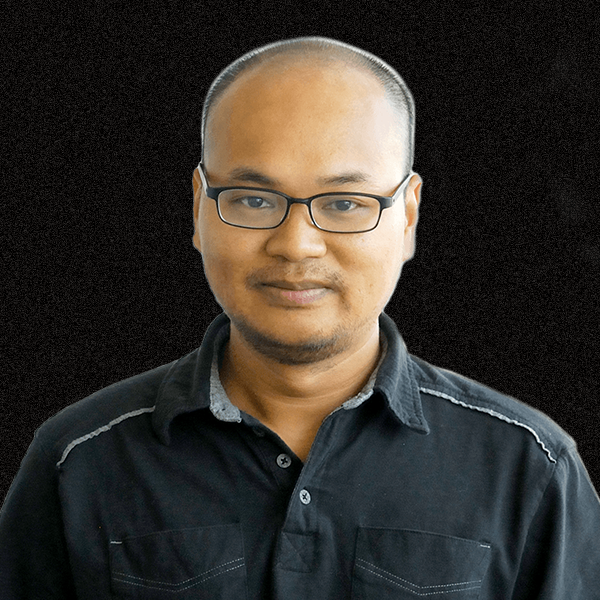 Donny Trương has been designing and developing web experiences for twenty years. He is director of design and web services at George Mason University Antonin Scalia Law School. He received a BA in digital art and multimedia design from La Salle University and an MA in graphic design from George Mason University School of Art. He wrote Vietnamese Typography as his final graduate thesis.
Vietnamese Typography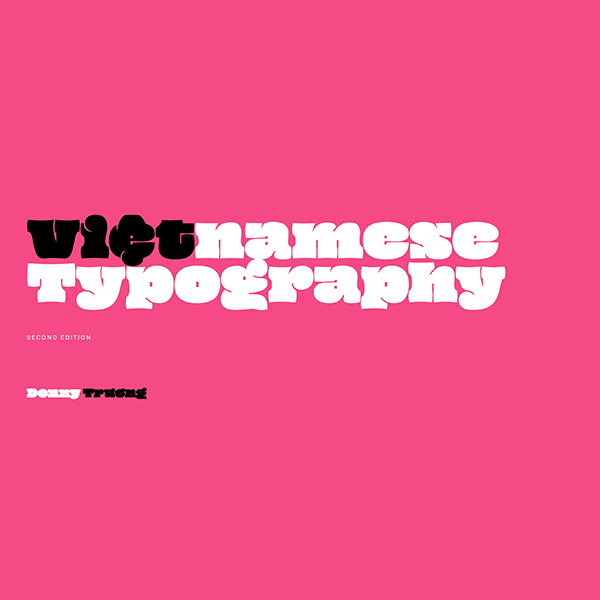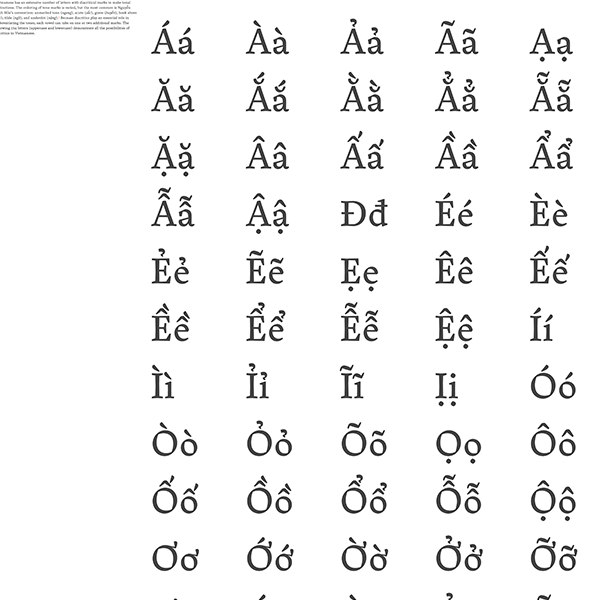 Published as his final thesis for a master of arts in graphic design from the School of Art at George Mason University, Vietnamese Typography had quickly become an essential guide for designing Vietnamese diacritics. Type designers around the world have used this book as a guide to help them understand the unique typographic features in Vietnamese. They learned the subtle details and the nuances of the Vietnamese writing system even if they do not speak or write the language. As a result, they gained more confidence in designing diacritics, which play a crucial role in the legibility and readability of the Vietnamese language.
For more information: Twitter, Website.
Kim Sandara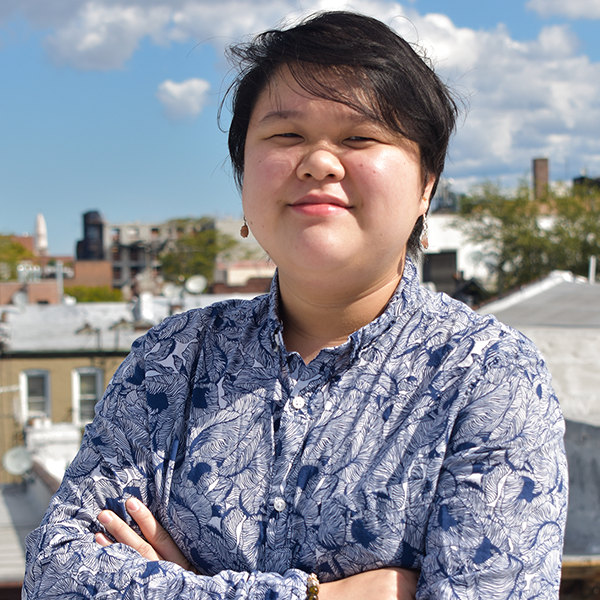 Kim Sandara is a queer, Laotian/Vietnamese artist from Northern Virginia and now based in Brooklyn, NY. She's currently working on her graphic novel "Origins of Kin and Kang" about her coming out story and collaborating with Legacies of War to help fund removing bombs from Laos left over from the Secret and Vietnam Wars. She is eager to integrate into creative, queer and Asian communities in Brooklyn.
270 Million Project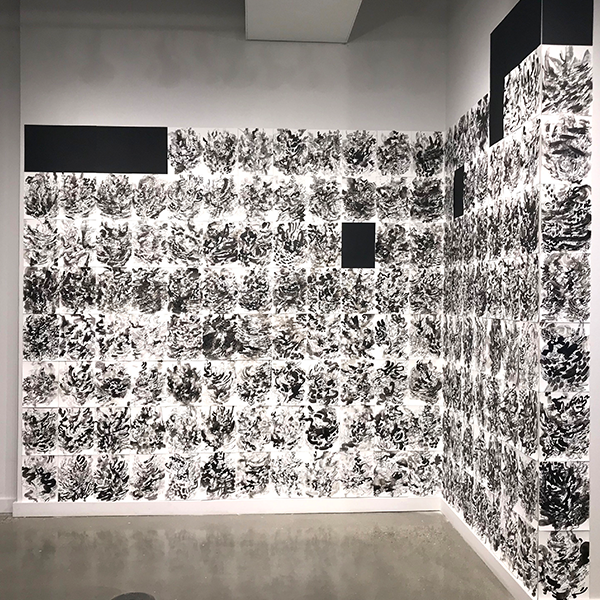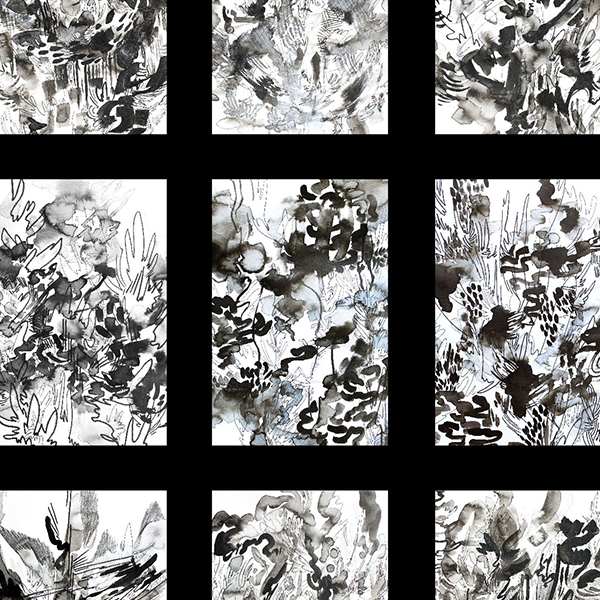 The 270 Million Project is a commitment to create 270 ink paintings resembling Rorschach tests, listening to only Lao music. These pieces explore her relationship to being a Lao American: the longing to understand her roots and the conflict of being American and Lao. Each painting represents 1 million American cluster bombs dropped on Laos during the Vietnam War. Ideally, the pieces are in a grid display which echoes the idea of maps used to clear out the cluster bombs. $100 of the first 135 painting sales go to Legacies of Wars, a non-profit working on advocacy, education and funding the removal of unexploded bombs currently still in the country. The next $100 from each of the remaining 135 painting sales go to COPE, a facility which aids in physical therapy for the thousands of people affected by the bombs after the war. With each sale there will be missing parts to the grid. Each missing spot represents the impact a community can have on solving a problem if they come together. This work speaks to intergenerational trauma, the immigrant/refugee family experience, war, identity and resilience.
For more information: Website, Instagram
Jenn Low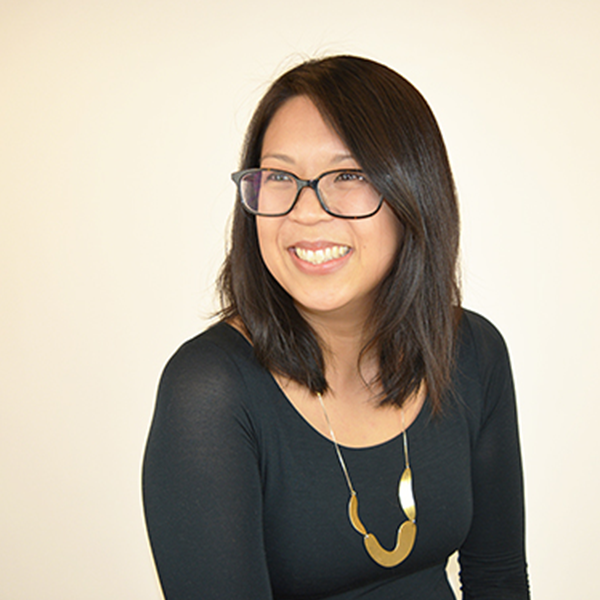 Jenn Low is the Communications Director at the Urban Studio and Deputy Director of the 1882 Foundation where she leads a collection of place-keeping initiatives in D.C.'s Chinatown. With thirteen years of experience as a landscape architect and her recent studies as an integrative designer, Jenn works at the intersection of participatory design and public history, and her work seeks to redistribute power in our design processes to advance our work toward spatial justice.
Dear Chinatown, DC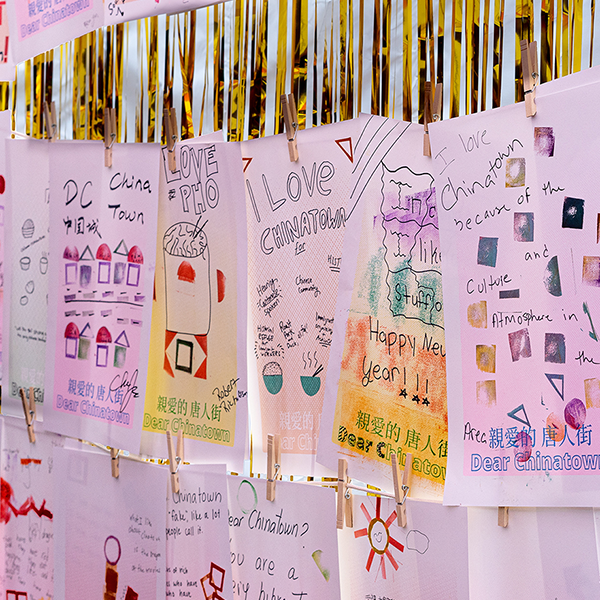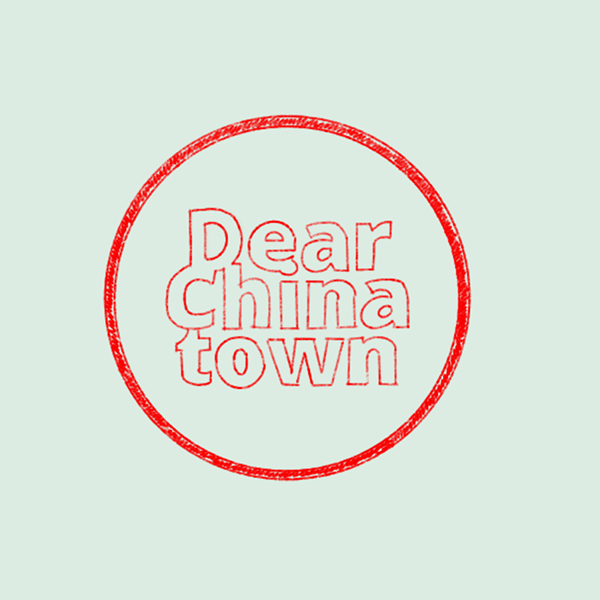 Dear Chinatown, DC is a participatory art and mapping project that makes visible the stories and social histories of places within Chinatown, DC. Through the project, we aim to identify projects and initiatives that will contribute to place-keeping in the neighborhood that supports physical, spiritual, cultural and economic health and well-being for its longtime community.
For more information: Website, Dear Chinatown DC
Anjali Nair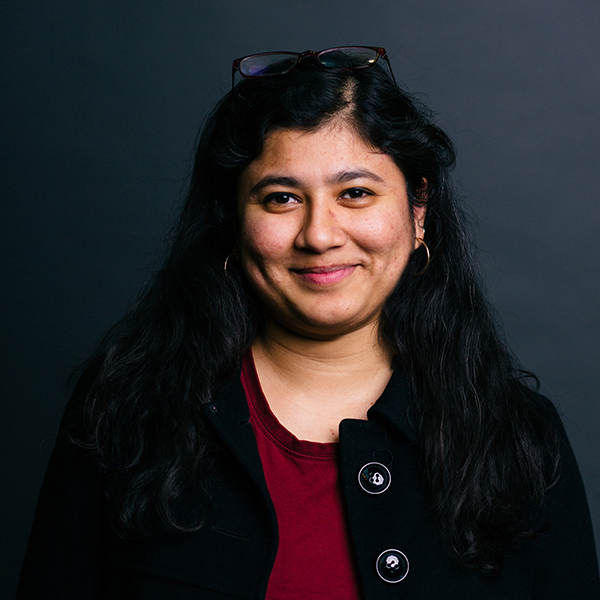 Anjali Nair is a graphic designer from India based in Baltimore. She is currently working as an editorial designer and illustrator at MSNBC Digital + NBC News. Her interests lie in creating flexible visual systems, typography and editorial design.
Originally from India, she graduated with an MFA in Graphic Design from the Maryland Institute College of Art (MICA). She has previously worked at Hyperakt, Gretel, The Caravan Magazine, WWF-India, and GCD Studio. Her work has been recognized by the Print Magazine, Society of Typographic Arts, Graphis, AIGA Flux Blue Ridge, Adobe and GD USA.
She believes that visual communication can be a conversation starter, and enjoys employing satire in her work to fuel narratives inspired by her personal cultural experiences, identity, and beliefs.
Navarasa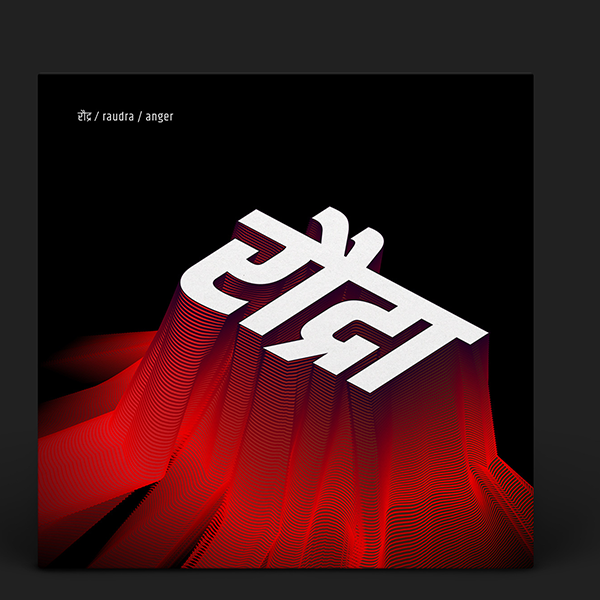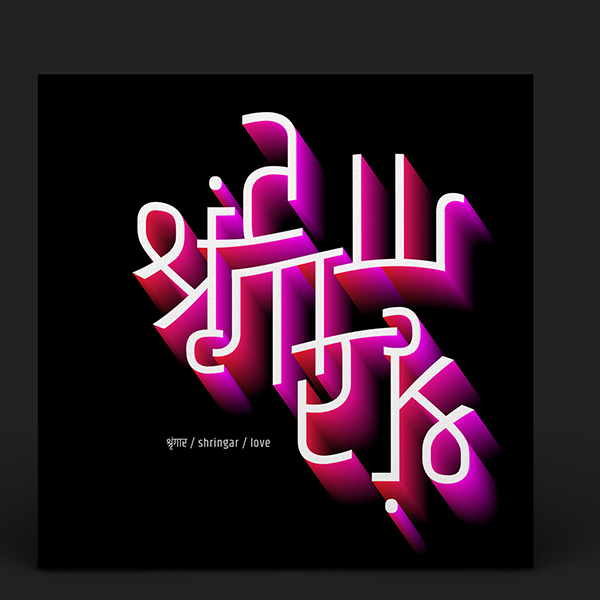 Navarasa is a series of typographic explorations in Devanagari to express the nine rasas (or essence) that any work of art could evoke. Rasa translates to juice or essence. The Sanskrit text, Natyashastra discusses the rasa theory, a concept in the Indian arts about the aesthetic flavour of any visual, literary or musical work evokes an emotion or feeling in the reader or audience but cannot be described. This series uses expressive typography to bridge the gap between two languages and makes it more inclusive. Each piece in Devanagiri express one of these rasas and creativity show what it could evoke. The typeface used across the series is Khand by the Indian Type Foundry.
For more information: Website, Twitter, Instagram
Koi Hernandez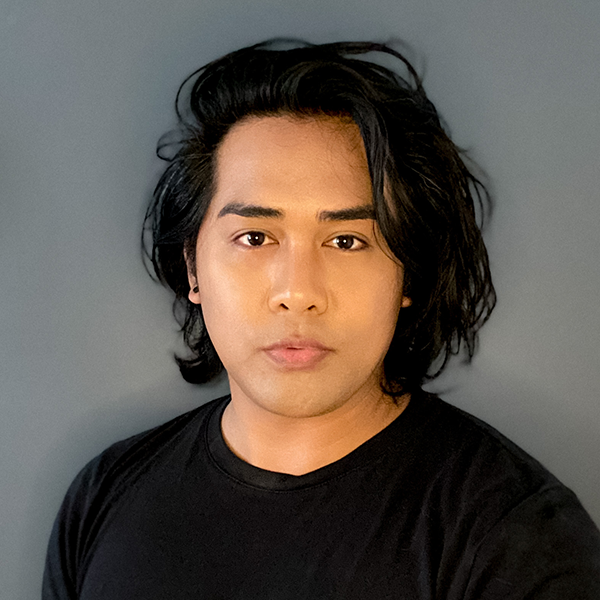 Koi began his career as a Graphic Design Professional, where he spent his early years working in the print and digital design spaces, developing logos, marketing collateral, and infographics. Koi pivoted to the User Experience Design field to add a human-centered approach to his creative process, using his skills to help organizations and startups better understand and shape their solutions to their market. Through his background as a Graphic Designer, interest in accessibility, passion for Design Thinking, and Human-centered Design, Koi creates meaningful experiences that meet the clients and their user's needs. Koi is employed as an Experience Design Consultant for Slalom, where he uses his talents and interests to improve experiences and solve challenges for his clients.
Koi's free time is spent keeping his four dogs' (Jax, Mumford, Wyatt, and Ellis) energy well spent. He also spends his time volunteering for the AIGA DC SHINE mentorship program, mentoring aspiring UX Designers for DesignLab, and is the founder of APIWho.Design.
APIWho.Design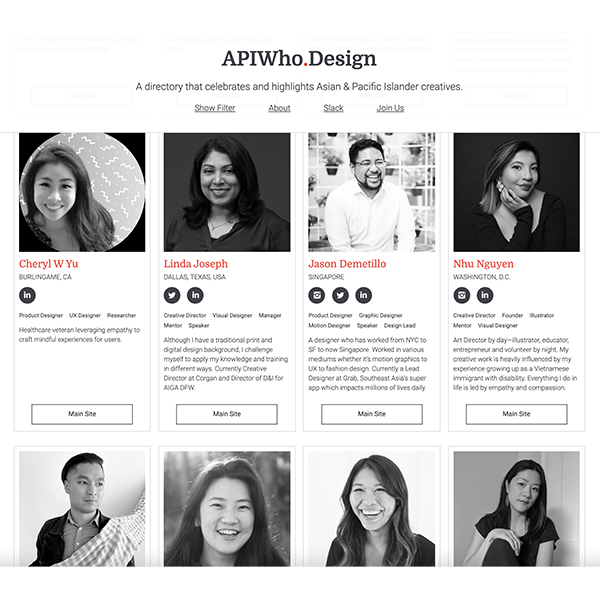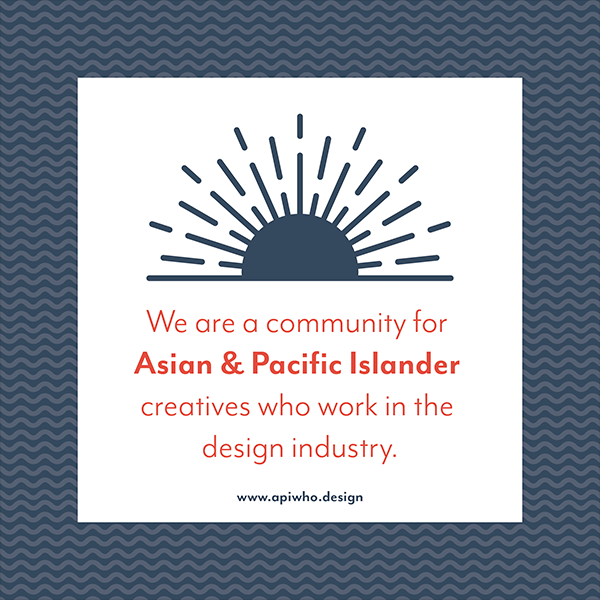 Developed in 2020 during the Covid-19 pandemic APIWho.Design was a way for Koi to connect and develop a deeper relationship with the design community. Similar to sites like Women Who Design, Blacks Who Design, and LatinX Who Design, APIWho.Design aims to provide a space that highlights Asian and Pacific Islander creatives and provides a community for them to connect and share experiences.
For more information: Twitter, Website, APIWho.Design, APIWhoDesign Instagram
About Our Campaign Designer
Rachel Newman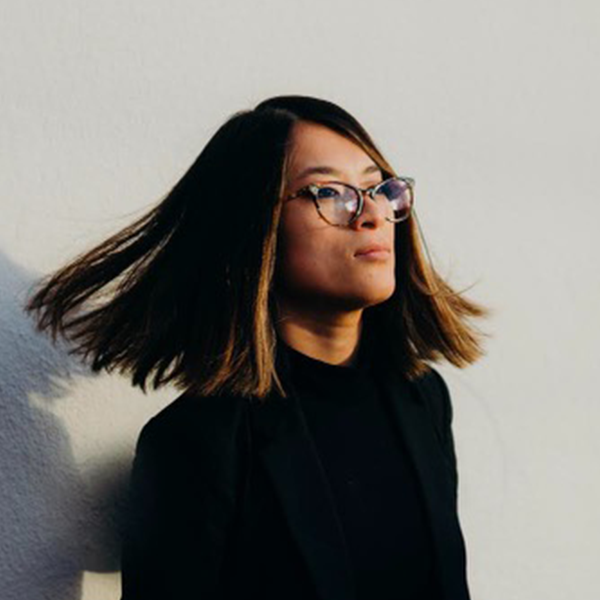 Rachel Newman @rachnewm is a multidisciplinary graphic designer whose worked with clients like Snapchat. Her most recent work was for their APIDA (AAPI) Heritage Month campaign.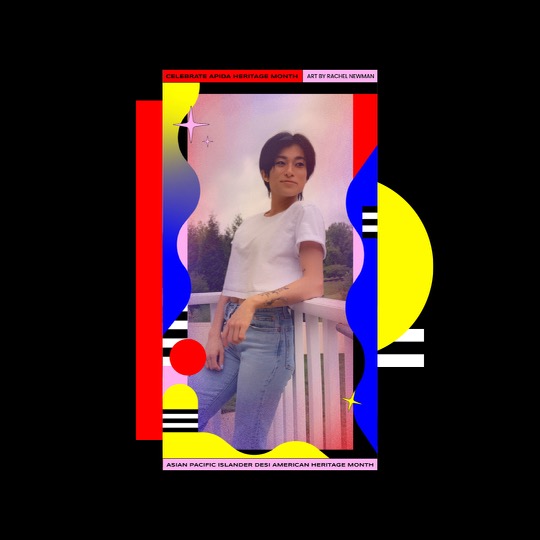 As an adopted Chinese American, she has felt an insane amount of imposter syndrome in the Asian community and the western/American community. After years of self work, she developed a sense of pride and confidence in her identity being a part of both Chinese and western cultures. In the Snapchat Lens she blends the symbolism of unity in circles and water from Chinese culture with western, Italian Memphis style design.
Show us how you celebrate AAPI Heritage Month with Rachel and Snapchat's lens, via this link!
For more information: Website, Instagram
Honorable Mentions
Grace Boyle
Grace "Gray" Boyle is a designer, animator and hand letterer based in Washington, D.C. She currently works as a designer at APCO Worldwide where she also co-chairs their North America DEI Council. A Chinese-Irish-American millennial, Grace grew up with the Eastern and Western values that serve her best, and an adventurous taste for new foods.
Chefs Stopping AAPI Hate (Instagram) is a collective of chefs and restaurants working to raise awareness and funds to stop anti-Asian racism. Inspired by the project and feeling compelled to serve the AAPI community after a year of especially violent incidents, Grace cold called the organizers and volunteered her branding services. With the goal of giving the project a bold, proud logo that would be used across their instagram, menus, flyers and takeout bags to help unify the effort across 5 participating cities. The project has since spurred other artists, illustrators, photographers and volunteers to join the cause and interpret the brand in their own creative ways.
For more information: Instagram, Website, Linkedin
Phim Her
Phim Her is the host of Phim's Chats and the founder of HAWJ Studio. She is a Hmong-American refugee who is invested in using the power of storytelling to connect curious minds and inspire a new generation of mindful, creative leaders. Over the last 7 years, she has used her platform as a DEI and design leader to convene powerful conversations around diversity, inclusion, leadership and community-building. She has been featured at the AIGA National Conference, the UN's Global People's Summit (DC Hub), the Embassy of Italy, and OCA Asian Pacific American Advocates.
Over the last year, Phim has used her Phim's Chats and Room for Us platforms to create community forums on race, power, and equity in the workplace. An example of this is Phim's Room for Us BIPOC Founders series, which focuses on spotlighting entrepreneurs of color. Phim has also worked with AAPI-focused groups like ACE NextGen DC and OCA National to highlight the AAPI experience.
For more information: Website, Instagram, Linkedin
Ruth Tam
Ruth Tam is a writer, illustrator and audio producer. Merging these mediums, her writing, visual storytelling and audio journalism have explored city change, cultural shifts, personal identity and family traditions. Her work has appeared in The Washington Post, NPR, The New Yorker and the PBS NewsHour, and received honors from the Online News Association, the Society for News Design, the Association of Food Journalists and the Public Media Journalists Association.
Ruth has covered the response in DC to June 2020 Black Lives Matters demonstrations and March 2021 Atlanta shooting. Her writing, visual storytelling, and journalistic professionalism carries empathy and urges her audience to take action against racism and stand in solidarity with minority groups and people of color.
For more information: Website, Journalism, Visual Storytelling
Prachi Jhawar
Prachi Jhawar (she/her) is a recent graduate of American University and received a B.A. in Political Science and Women's, Gender, and Sexuality Studies. On her campus, she was heavily involved with the Asian American community through her work with AU's South Asian Student Association.
For her, graphic design is a passion that she uses to further her interests in gender and racial equity work.
For her WGSS Capstone Project, she combined her passion for graphic design, gender equity work, and mental health awareness in the Asian American woman community. This project gave the participants a space safe to discuss their relationships with their bodies and the AAPI experiences that influenced them. After conducting interviews with seventeen Asian American individuals, she took images they gave her and turned them into digital art through graphic illustration and animation. Using creative technologies, she uplifted the voices of the women interviewed to remind them that their bodies are inherently art.
For more information: Capstone project, Twitter, Linkedin
Let's continue to celebrate AAPI creatives beyond May
These are only a few AAPI creatives who are thriving through a design career and are building a better world. According to U.S. Bureau of Labor Statistics, there are 148 million employed individuals in America. Within that number, 424K are employed individuals in Specialized design services; and only 8.3K of those employed individuals are AAPI. That's 1 in 52 employed individuals. Our design industry is fueled by diverse perspectives and we should welcome everyone who decides to be part of it.
AIGA DC is committed to diversifying the profession and financially supporting under-represented future designers going to college through our design scholarship program, Design Continuum Fund. Be part of our community and attend an upcoming event or volunteer for us.
FYI: Campaign Selection Process
To identify creatives to spotlight in this campaign, we invited public nominations. Nominees and their projects had to meet three selection criteria:
Content – The project has a voice and point of view. It conveys meaning in graphic design, digital, marketing, audio, animation, or video. It's relevant and engaging.
Creativity – The creative cleverly use materials, styles and/or technology to communicate their narrative. Their work is imaginative, stand-out, and innovative.
Social Impact – Their works contribute to a safer space and more awareness for the AAPI community.
After closing the nominations, members of our board reviewed submissions and rated nominees.
Selected nominees were informed and collaborated with to prepare materials about them. We published their spotlights on Instagram with bios and project highlights.