This event is sold out, however remote viewing and engagement options are now noted below.
Meet your peers around the federal government at the eighth installment of AIGA DC's DotGovDesign on Thursday, January 21.
At this session, Sarah Brooks gives us an inside look into her journey from the tech scene of San Francisco to the Presidential Innovation Fellows, her recently published book on strategic design thinking, and the Insight & Design team with the VA Customer (Veterans) Experience Office.
Federal employees, contractors, and advocates engaged or interested in designing for government are welcome at this event.
This event is free to AIGA members and non-members alike.
In-person seats at this event are sold out. However, join the event from your computer, tablet, or smartphone:
https://global.gotomeeting.com/join/723187925
You can also dial in to the event using your phone:
United States : +1 (571) 317-3122
Access Code: 723-187-925
What if the snow comes earlier than expected?
Have no fear, you can still enjoy this event from the comfort of your home or office using the webcast or phone information provided above.
The show must go on!
---
About Sarah Brooks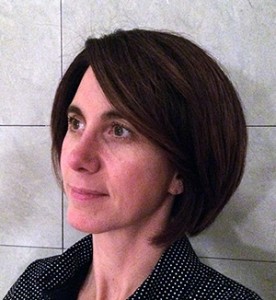 Service designer, researcher, strategist and advocate for social change, Sarah Brooks' work includes practice, teaching, writing and large-scale systems thinking about interventions for a better world. For the past 15 years, she has led multi-disciplinary teams creating products and services ranging from food systems, healthcare, media, education, finance, civic innovation and worked with a broad range of Fortune 500, startup, non-profit and foundation clients.
Sarah has taught at Stanford University d.school's Change Labs, California College of the Arts, and Centro Diseño. In her role as AIGA SF Sustainability Board Chair, Sarah produced the Compost Modern13 Resilience conference that brought together over 500 attendees and 24 international sustainability design leaders.
Sarah served as a 2014-2015 Presidential Innovation Fellow at Veterans Affairs, and currently leads the Insight & Design team within the VA Customer (Veterans) Experience Office. She is the author of the chapter Shifting Systems, in the book Strategic Design Thinking: Innovation in Products, Services, Experiences and Beyond, published by Bloomsbury Press, 2015.
---
Can't make this date?
Use #DotGovDesign to follow along remotely.
The event will be webcast for those not able to attend in person. Tune in details for the webcast will be posted to this page the week of the event.
Follow Us on Facebook | Join Our Gov't Design Email List | Take Our Survey
---
Are you interested in blogging, photographing, or welcoming guests for DotGovDesign events? Email Claire Blaustein
Interested in sponsoring a future DotGovDesign or other AIGA DC events? Contact Katherine Warminsky
Thank you to CHIEF for sponsoring this event!